Here's a look at five second round steals in the 2011 NBA Draft. Posted by Ben Golliver.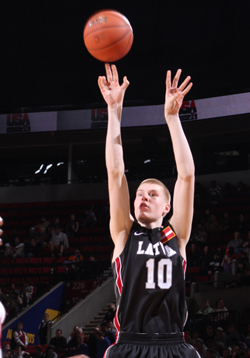 1. Davis Bertans -- San Antonio Spurs at No. 42
Acquiring
George Hill
for picks was a nice win-now move for the Indiana
Pacers
, but the San Antonio Spurs did very well to get value in the package coming back. Snagging
Kawhi Leonard
, the major slipper in the first round, was a great move. Picking up Bertans, a Latvian forward with first round potential, was arguably even better. That Bertans fell to No. 42 and the Spurs, historically one of the smartest organizations in the NBA, seems almost unfair. An excellent shooter with great length and a bit of handle to boot, Bertans can develop at his own pace overseas, ready to inject talent when needed in the post-Duncan era.
2. Darius Morris -- Los Angeles Lakers at No. 41
The Lakers needed to address the point guard position after exiting the playoffs earlier than usual this year. The aging
Derek Fisher
and the frantic
Steve Blake
didn't perform up to expectations and there are question marks about
Shannon Brown
's future in Los Angeles. Morris, who has often drawn comparisons to
Andre Miller
for his play-making and size, was the best point guard remaining on the board and had been considered a first round prospect by some talent evaluators. The Lakers filled a hole beautifully and hedge nicely against Father Time.
3. Josh Selby -- Memphis Grizzlies at No. 49
Did anyone fall further than
Josh Selby
? A top high school talent endured a confusing and disappointing single season at Kansas before bailing to the pros as a one-and-done. Anyone snatching him up in the second round, given those circumstances, was getting good value. That he lasted until No. 49 is pretty amazing. Memphis -- led by no-nonsense coach Lionel Hollins -- showed this season that it can keep difficult personalities and egos in check and turn a group of cast-offs into a team that defeated the San Antonio Spurs in the first round of the Western Conference playoffs. If Selby is able to stick and get his career back on track, his scoring ability in the backcourt would make a trade of
O.J. Mayo
less painful. If not, the Grizzlies can simply cut their losses. All-reward, no-risk here.
4. Jeremy Tyler -- Golden State Warriors at No. 39
Jeremy Tyler
is a risk, without question, and the Warriors are already reportedly $2 million deep into that risk after purchasing the pick used to select him from the Charlotte
Bobcats
. Tyler was a top 15 talent in this year's draft crop, once regarded as the best high school player in his class. He's shown signs of maturation and his offensive instincts are fairly well-honed. He will need to grow up as a professional but the same goes for many in this class. Getting him on a second-round contract with the flexibility of a non-guaranteed deal means he is on a tight leash and will have every reason to be on his best behavior. He's in a position where he's got to prove himself all over again to really see an NBA payday, the type of which he expected when he left high school early to play overseas years ago. Getting him fully in shape to reach that goal is the first step. No one should be surprised if he becomes the most talented player picked in the second round within two or three years. Golden State needed to get tougher and bulkier inside, which they did here.
5. Andrew Goudelock -- Los Angeles Lakers at No. 46
Goudelock is a small school scoring point guard without much of a defensive reputation. That description alone carries plenty of question marks and risks. But the Lakers -- with
Kobe Bryant
,
Andrew Bynum
, Paul Gasol and Andrew Bynum in the fold -- have the talent, not to mention the deep pocketbooks, to sustain those risks with ease. As the guard trio of Bryant, Fisher and Blake ages, GM Mitch Kupchak's job was simply to inject the roster with youth and upside. In taking both Morris and Goudelock in the second round, he gets two different looks to fulfill that goal. Given that they are both on second-round deals, he only needs one of them to stick. The fact that both guards have the upside to be rotation players -- in L.A. or elsewhere -- means the Lakers landed two solid assets late in a shallow pool. That's intelligent drafting.