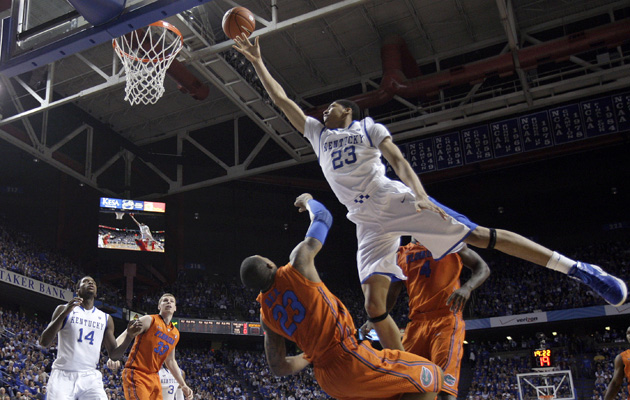 Anthony Davis is the No.1 prospect by most evaluators, including CBSSports.com's Jeff Goodman.
(Getty Images)

By Matt Moore
To start you off, Jeff Goodman and I sat down to talk about the college season through the lens of th NBA draft. We talk about Anthony Davis, Michael Kidd-Gilchrist (MKG), Tony Wroten, and the quality of character and coachability of guys in this draft. You will enjoy this. Let's start there.
Regarding Davis, this is a post about something obvious, but it needed to be written anyway.
Anthony Davis is currently averaging 13.8 points, 9.8 rebounds, 4.8 blocks per game and shooting 64.6 percent from the field. So, just to get an idea of where he stands historically, how many freshmen have averaged 13 points, 9 rebounds, and 4 blocks per game? (Note: round up and Davis is averaging 14, 10, and 5, but we're setting the bar low here. Just keep it in mind.) The answer is:
1. Anthony Davis.
Just Davis. That's it. So there's that.
Player Efficiency Rating doesn't translate well to college. The weak schedule, different flow, all of it just makes it to where the metric isn't particularly effective in evaluating performance. But if you're into hypotheticals or interesting stat trivia,
the highest PER over the past three years is 34.75
from Kennth Faried. Davis is currently on track for a PER of 35.4.
This is all to say, Anthony Davis is a freak. And I'm not talking about the eyebrows.
Thing is, all of this is nothing compared to the scouts evaluation of him. In a loaded class with Harrison Barnes, all eleven hundred of the Kentucky kids, Jared Sullinger, Perry Jones, and Thomas Robinson, Davis is still miles ahead of the rest in terms of ability and projected ceiling. It's not just the production, that stuff can come from physical dominance at the college level. But it's that his defensive instincts and determination are so high. He's a smart, coachable player that doesn't block just the first shot. He blocks the second shot. He blocks the third shot. To say he may be the best defensive prospect since
Kevin Garnett
is not an exaggeration.
Davis sprouted from a guard into the power forward he is today, and his frame has a long way to go in terms of catching up. His frame isn't massive, he'll never play center in the NBA. But his athleticism and ability to attack shots will make for an easy translation.
The two biggest questions about Davis are his ability to defend in the post and his offense. Jeff Goodman of CBSSports.com in the podcast above says that he's got a much better offense than he's asked to provide at Kentucky and that under a pro coach, he'll be able to showcase those abiliies. Defensively in the paint, he'll have issues. But there's no reason to think that as he grows and works under a strength and conditioning coach at the next level that he can't grow into the bulk and strength necessary to contend there.