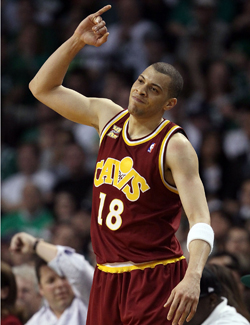 Trade rumors abound about people other than Carmelo Anthony, including Anthony Parker, Ramon Sessions, and Nene.
Posted by Matt Moore
Believe it or not, there are trade deadline rumors that don't involve Carmelo Anthony. I know, we're amazed, too. Here's a round-up of what's going on outside of the... ugh... I'm sorry. I can't call it Melodrama anymore. I just can't do it without getting physically ill. Anyway, trade rumors!
Celtics, Bulls vying for Anthony Parker
ESPN reports
that both the Celtics and Bulls are vying for Anthony Parker, the wingman for the Cavs. Parker's not having a great season (I know, a Cavalier having a bad season, who would have thought?), but he is shooting 40% from the arc. The best thing about Parker currently is that he's a bargain deal. The Bulls or Celtics can reportedly get him for either a young big man or a draft pick. The Celtics have
Semih Erden
and the Bulls have Omar Asik. With the playoffs coming up, rotations are shortened and Erden and Asik are unlikely to get time (provided
Joakim Noah
and/or the Celtics twin O'Neals stay healthy), so they're expendable. Parker provides help where both teams need it.
The Bulls need a longer perimeter wing to go behind
Luol Deng
while the Celtics are struggling with
Marquis Daniels
out for several weeks. Parker is a fit in both places as an athletic veteran. This is the kind of bargain deal that good teams pursue while other teams are knocking themselves out chasing after big names.
Everybody loves Ramon
Earlier this
week Ken Berger reported
that the
Hawks
were interested in
Cavaliers
guard Ramon Sessions. That interest is spreading like a disease, now, with Portland and the
Knicks
also reportedly having interest
.
But the
Akron Beacon Journal
reports that the interest is one-sided
, with the Cavs not showing particular enthusiasm for moving him. Because the one thing you know is that when you lose 25 games in a row, you don't want to switch things up.
We've
already argued that the Cavs need a total and complete firesale
, and Sessions shouldn't be exempted. If they can get someone to take on another deal with him, so be it. Yes, he's a young talent, and yes, he's arguably their best player. But the Cavs' problems are so severe as to warrant whatever changes they can make without taking on long-term money. Portland is an attractive situation with veterans on expiring contracts and younger players, while the Knicks? Well, the Knicksdon't need
Eddy Curry
if the Melo deal falls through so they can afford to take some of the Cavs' flotsam in order to take on Sessions. But the Cavs have to reach that level first.
Speights to the Party
Speaking of the Blazers,
Berger said they'd be active
, and they're in just about every rumor we've got. Including this one,
which has them interested
in sending young
Dante Cunningham
to Philadelphia for
Marreese Speights
. Speights is just 23, and
his per-minute numbers
continue to climb even as he gets fewer minutes and a smaller role in the offense now that
Elton Brand
has put in a better season. Perhaps most important, Speights' rebounding figures are starting to catch up with his scoring ability, while he's gotten his FG% over 50%.
Cunningham by comparison has done a lot for the Blazers as their lone remaining healthy center (knock on wood, you knock on wood right now). But he doesn't have the versatility Speights has and Speights' upside is still formidable. He's got a solid mid-range J, crazy athleticism, and has never had resources devoted to his development.
But it looks like Philly is doing the most aggrivating thing teams can do, keeping a talented young player buried while also not listening to trade offers.
Nene not looking to relocate, regardless of Melo
There's been talk of Nene possibly looking to get out of Denver should Melo walk. But
Yahoo! Sports reports
that family issues may keep Nene there long-term. His wife's pregnant and from Colorado. Often overlooked in players' desire to win or chase big markets or money is the impact of family. Nene may wind up being the building block the
Nuggets
will need him to be going forward regardless of how the Melo situation works out after all.
Diaw the Fix-It-All (Okay, not really, but it rhymed, kind of)
Boris Diaw
has an expring contract, an oversized midsection, and a versatile game, still. Yahoo! also reports that the
Bobcats
are
looking to move Diaw
(to "change their team a bit"). Diaw is undersized as a five and a four, oversized as a three, has good handle, can shoot, attack off the drive, play the post and work as a passer in the pinch-post. He just can't do any of those things exceptionally well. With a $9 million expiring, he'll be a target for teams.