Posted by Ben Golliver.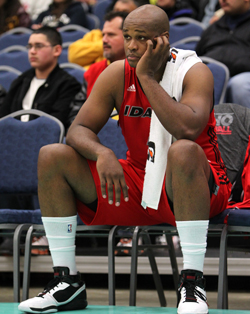 Employee No. 8 won't become Inmate No. 8, at least not yet.
The Associated Press reports
that former NBA All-Star Antoine Walker was sentenced to a 5-year probation term and was ordered to pay more than $700,000 in restitution to multiple Las Vegas casinos as part of a case that he plead guilty to
back in June
.
Former NBA All-Star Antoine Walker was sentenced to five years' probation and ordered to pay $770,050 in restitution to three Las Vegas casinos after pleading guilty to failing to repay gambling debts.

Prosecutor Samuel Bateman says the felony charge could be dismissed if Walker fully repays the debts incurred in 2008 and 2009 at the Planet Hollywood, Red Rock Casino Resort and Caesars Palace casinos.

He faces a year in prison if he violates probation.
The Las Vegas Sun reports
that Walker had nothing to say about the matter on Tuesday.
Walker, wearing jeans and a gray sweatshirt, was in Clark County District Court on Tuesday morning but did not speak at his sentencing. He declined to comment after the hearing.
Walker, 35, was
recently waived
by the D-League's Idaho Stampede, although he is reportedly set to rejoin the team at some point later this season. The average salary in the D-League is $35,000, meaning that his Vegas debt bill would take 22 years worth of salary in the American minor league to cover (disregarding taxes).
He last played in the NBA during the 2007-2008 season. A three-time All-Star and a member of the 2006 NBA champion Miami
Heat
, Walker retired with career averages of 17.5 points and 7.7 rebounds per game. His 12-year NBA career included stops with the Boston
Celtics
, Dallas
Mavericks
, Atlanta
Hawks
, Miami Heat and Minnesota
Timberwolves
.