Posted by Ben Golliver.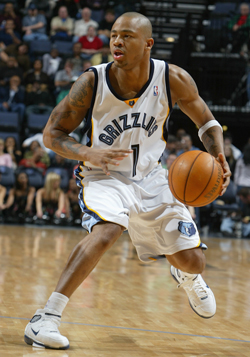 Back in 2009, former Memphis
Grizzlies
guard Antonio Burks was shot while shooting dice.
On Thursday,
the Associated Press reports
that Darquan Lynneral Swift, a 20-year-old man accused of shooting and attempting to rob Burks, was sentenced to nearly a century in prison for the crime.
A man has been sentenced to 97 years in prison for shooting Memphis Grizzlies guard Antonio Burks.


Burks testified at Swift's trial that Swift shot him in the stomach and then tried to shoot him in the head but the gun jammed. He said he will remember Swift's face for the rest of his life.
The
Memphis Commercial-Appeal reported
at the time that Burks was shot in the "lower torso" and that the shooting left him in critical condition. He was immediately hospitalized following the incident and underwent surgery for his wounds.
Burks is a native of Memphis and stayed home to play his college ball at the University of Memphis, where he was named Conference USA Player of the Year in 2004. His NBA career lasted just 81 appearances over two seasons with the Grizzlies: 2004-2005 and 2005-2006. Burks averaged 2.3 points and 1.3 assists in 9.7 minutes per game for his career.