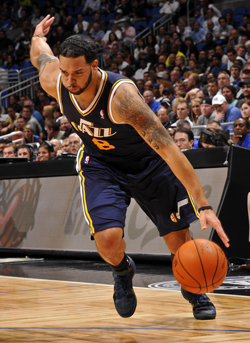 Do wins over the Heat and Magic on a back-to-back road trip make the Jazz giant killers or simply masters of parlor tricks they can't rely on? Survey says: Jazz fans don't care. Posted by Matt Moore
Jazz Giant Killer's Or Lucky Strikes?
You'd think that knocking off two of the best teams in the East, championship contenders both, on back to back nights, on the road, would clear up the angle of who the Jazz are. You'd think that surviving a
LeBron James
triple-double, a 39 point outburst from
Dwyane Wade
, and a 20 point night from
Vince Carter
would give the Jazz an air of invincibility.
But it wouldn't be the Jazz if the didn't leave just the slightest hint of doubt in the minds of neutral observers, enough to plant seeds of skeptical criticism and enabling Jazz fans to rally behind their team as the underrated superstars once again. Meet the New Jazz. Kind of like the Old Jazz. Only kind of better, so far.
The disturbing signs about the Jazz are based on probablities. Losing to the Magic in a close one would have actually seemingly cemented the win over Miami as legitimate, because it wouldn't be seen as a fluke. Instead, the Jazz now have back-to-back road victories on a back-to-back against two of the top 3 teams in the East (common sense, not record-wise). And that just seems improbable. It seems improbable that they survived James' triple-double and Wade's outpouring, that they managed to get
Dwight Howard
in foul trouble and still overcome Vince Carter and
Jameer Nelson
having it going. Mostly it seems improbable that they could do all of this after going down by 15+ in each of the two games.
So the question is there.
Is this for real?
The Jazz started off remarkably slow this season, with losses to Denver and Phoenix. But a big Halloween night win over the
Thunder
seemed to spur them into a wakeup call, and since then they've only lost once in November, and that was to a Golden State team that no longer is an unforgiveable loss. But no one could have seen this coming. Well, except Jerry Sloan. Sloan was his usual self after the game, unmoved by his team's performance. Happy with the win, sure, but he's been around the block too many times to get too worked up, though he made time to praise his point guard. As he should;
Deron Williams
was simply phenomenal.
Stan Van Gundy
called the loss "disturbing"
and he should refer to it that way. Not just for the Magic who saw Dwight Howard turn into Clark Kent getting pummeled by the suddenly superhuman
Paul Millsap
, but for the rest of the league and those that try and make sense of it. Are the Jazz this good? Was this just a fluke, again? Does Utah have something special going on here even in November, or was this just an anomaly on their way to where most predict them, a mid-level playoff seed and a second round exit at the hands of the
Lakers
again?
Playing from a deficit makes for great blog fodder and warms the hearts of fans, but it's also not a sustainable strategy. Eventually you'll dig a hole you can't climb out of, and when that happens, you'll find yourself regretting you need the shovel at all. But at the same time, the energy, enthusiasm, and burgeoning chemistry can't be denied on a team that managed to make the Magic look meek and the Heat seem sub-zero in the fourth quarters of both games. And so we'll continue to wonder if the Jazz are giant killers or just mosquitoes that managed to catch the goliaths napping long enough to draw blood.
After all, there were plenty of people saying the victory over the Heat Tuesday night was a fluke based on the perimeter prowess of Paul Millsap. Those same people will question how reliable it is to depend on the Magic to surrender 21 turnovers. In both games against the Sunshine Behemoths the Jazz were out-rebounded and faced significant deficits in field goal percentage. And in both games they seemed to go on a near-psychotic rush to pull the game back within reach. Those same people will question if this is a reliable strategy. But at the end of the day it was reliable enough to net them wins over two teams that aren't going to have too many losses come April.
And consider this: the Jazz are still integrating new players, too, and with the rest of their division looking weak early on, the Jazz are giving themselves an opportunity to do something big by winning games they're not supposed to.
But then, that's why we play them, isn't it?