The Miami Heat dominate the Golden State Warriors in California on Friday night for their seventh consecutive win. Posted by Ben Golliver.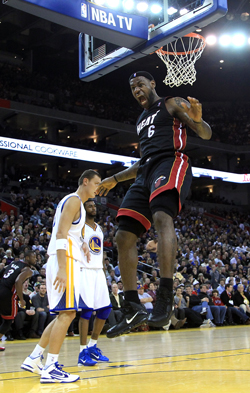 It was a tale of two halves in Northern California, as the Golden State Warriors managed to play the Miami Heat mostly even through the first 24 minutes, but got blown up by some fiery outside shooting from
LeBron James
in the third quarter, as the Heat cruised the rest of the way for their seventh consecutive victory, 106-84. The Warriors looked like a rudderless ship in the second half, thanks in no small part to the absence of starting point guard
Stephen Curry
, who continues to nurse an injured ankle. The Warriors went big, shifting
Monta Ellis
over to the point guard spot, but cold shooting proved to be Golden State's undoing, as they couldn't keep up with the run of easy baskets James and company created in transition. James iced it for sure in the closing minutes of the third quarter, dropping in back-to-back-to-back three-pointers, much to his own delight. From there it was all smiles and sunshine for the streaking Heat, Both James and teammate, guard
Dwyane Wade
, nearly had triple doubles, despite sitting much of the fourth quarter. James finished with 25 points, seven rebounds and nine assists. Wade led the Heat with 34 points, and added nine rebounds and seven assists. Ellis led the Warriors with 20 points, three rebounds and seven assists. ESPN columnist Bill "The Sports Guy" Simmons provided game analysis, and he mentally sparred with fellow analyst Mark Jackson, which made for some mildly humorous Boston and anti-Boston ribbing. With the win, the Heat improve to 16-8 on the season, and take over the top spot in the Southeast Division, moving into the No. 2 seed in the Eastern Conference thanks to an Orlando loss. They'll close their current four-game road trip with what should be a gimme in Sacramento against the
Kings
, arguably the worst team in the NBA, on Saturday night. The Warriors fall to 8-15, still good for third place in the Pacific Division.