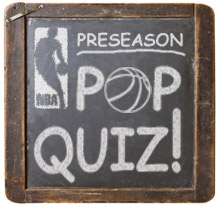 Posted by Royce Young
Fall is here, hear the yell, back to school, ring the bell
... The NBA season is right around the corner, and NBA training camp starts in just a few short weeks. To get you ready for the NBA season, we've put together 25 pop quizzes. Pencils ready? We continue our
Pop Quizzes
with this question...
Who are some players potentially set for a drop-off?
It doesn't take much to go from the top of the perch in the NBA to drop to the bottom. The food chain isn't friendly, especially to aging players.
Eventually, everyone has to come down to earth. Two seasons ago, it was
Shaquille O'Neal
. Last year,
Elton Brand
, once a walking double-double, had a terribly mediocre season. It just happens. It's the circle of NBA life. Some players can go out on top, but mosr will see their production dip and the slide starts. Who's facing that reality this year? Here are six candidates:
Yao Ming, Rockets
- Yao is probably the most obvious choice for three reasons. 1) He's older. 2) He's coming off a significant injury. 3) His playing time is already being limited. Strikes one, two and three.
I think it's pretty much accepted that the great days of Yao Ming are probably passed. Every season but his rookie year, he's averaged over 30 minutes a game. Now with only 24 at his disposal, putting up anything near his career averages of 19.1 ppg and 9.3 rpg will be difficult. He can still have a stellar statistical year in terms of per 36 minutes and per 48 minutes, but as far as being one of the top two or three dominant big men in the league, he may have to settle for really, really tall role player.

Tony Parker, Spurs
- The better
George Hill
gets, the less valuable Tony Parker is to the Spurs. Is Parker set to fall off the face of the earth? Not likely. But is he looking at going from top three or four point guard in the West into being just a solid top 10 point man? I think there's certainly that possibility.
But this is a contract year for Parker. He has Hill chomping at his playing time and idiots like me saying he's potentially headed for a down year. The motivation is certainly there for him. He's not old (just 28) and doesn't have a ton of mileage on him. He did break his hand last year but that shouldn't be anything that affects him this year. Still, it's hard to deny that his numbers and percentages dipped across the board last year and as his team ages around him, he might have a hard time putting up the big stats like he has in years past.
Vince Carter, Magic
- I know, I know. Putting Carter on this list isn't really fair because he pretty much already had his drop-off year. But even through a seemingly bad year, Carter still averaged 16.6 ppg while maintaining solid percentages. The 16.6 ppg is the lowest in his career, but he still was a quality contributor all season and at times, showed flashes of his old, explosive self.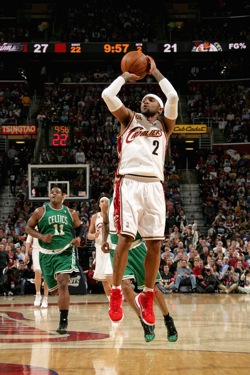 Now he's 33 and has played over 850 games, battled through injuries and is on a team where he's not the lead man. He played the role well last year, but the better
J.J. Redick
gets, the less need for Carter there is. This is a contract year for Carter who would still like to keep going. But he might be splitting time at shooting guard with Redick and he'd probably be lucky to average anywhere near 16 points a game.
Amar'e Stoudemire, Knicks
- Shield your eyes, Knicks fans. I know New York just dropped a heavy dollar amount on Stoudemire and already talking about a decline for him isn't something anyone wants to hear. But here's the reality:
Steve Nash
doesn't play for the Knicks. For his career, Stoudemire is assisted on about 60 percent of all his baskets. And who was the guy creating those scoring opportunities? Yeah, that guy.
So going from Nash to
Raymond Felton
might cause a decline in Stoudemire's typically sexy stat line. Does this mean he's not going to be good and help the Knicks improve? Absolutely not. But could his nickname of STAT potentially be outdated already? Definitely.
Mo Williams, Cavaliers
- Mo Williams, pre-LeBron James: 14.2 ppg, 5.6 apg. Mo Williams, with
LeBron James
: 16.8 ppg, 4.7 apg, one All-Star appearance. Mo Williams, post-LeBron James: to be determined.
It's hard to deny the rise in profile for Williams after he joined LeBron in Cleveland in 2008. He went from underrated point guard in Milwaukee to LeBron's No. 2 man. But without The King, things will be more difficult for Williams. Open shots won't be as available and as the best scorer Cleveland currently has, he'll be the focal point for opposing defenses. Williams is going to have to carry Cleveland and that's something that he's not really equipped for. He's always been a good shooter, a good creator and a good scorer. His assists dipped with LeBron because Williams was able to play off the ball a lot with LeBron running point. Now Williams has to do it all for the Cavs.
Ray Allen, Celtics
- At some point, time is going to start catching up to Ray Allen. He's avoided it the past few years, turning in some of the most efficient of his career. But he's got over 1,000 games and almost 38,000 minutes on the odometer. His 16.3 point per game average last season was the lowest since his rookie season and though his shooting percentages held pretty close to form, he took the fewest number of 3s per game in 10 years. To me, that says he's not getting as many open looks because when Allen's open, he fires.
Allen is going to have a quality season, because his perfect shooting touch won't allow otherwise. But in terms of sustaining his high level and gaudy numbers, this season might be the start of his journey down.