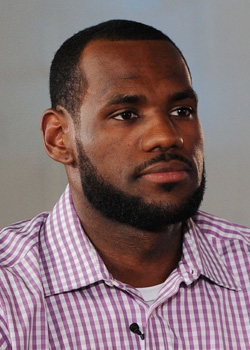 "Decision" revenue donated to charity as promised, with proceeds partially going to Cleveland Boys and Girls club, up to $160,000.
Posted by Matt Moore
Say what you want, but LeBron is a man of his word.
Okay, just about one thing, but still. It's something. James pledged to donate all the sponsorship dough pulled in from "The Decision," a little television special you may have heard of, to the Boys and Girls Club of America. The special where he tore the heart out of Cleveland while it was still beating generated $3 million in revenue, all of which is going to various clubs across the country. Including... the Boys and Girls Club of Cleveland.
DUNH-DUNH-DUNH
.
Fox 8 in Cleveland reports that
James will donate $160,000 plus computers and Nike gear
to the Cleveland chapter of the charity for youngsters. Akron, Miami, Chicago, LA, and New York also received portions. But it's a good will move that will likely, well, probably do nothing. This was something good James did, and he hasn't committed a crime, but for some reason what he did has turned people's stomachs enough to be stuck against him for the forseeable future. The best way to turn the tide in his favor? Bring home a ring with his talents back to South Beach. Not that that will make Cleveland feel any better. They're probably, and rightfully, clamoring for the Club to use the money for new toilets or something. Or maybe to pay for a new landfill for all his Cleveland merchandise.
"The Decison" will go down in infamy as one of the worst PR moves in all of sports. But the fact remains that he took an opportunity to expand his brand, reached across to casual non-sports fans and made an impact, and raised $3 million for charity. Not bad for nine words.