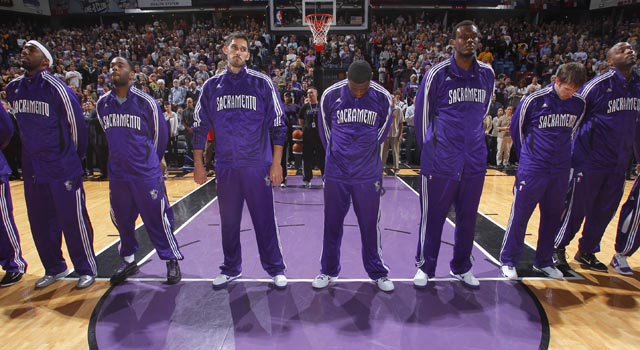 By Matt Moore
With the predictable, yet sooner-than-expected firing of Paul Westphal today, the
Kings
seem to be in disarray. But looking at the roster and the talent available, plus the job being in California (be it Sacramento or Anaheim), you have to consider it to be one of the more attractive positions likely to open this year. Yes, the franchise is in disarray from an ownership and organizational perspective, but this is the NBA. Those things magically fade to the background if you start winning with a talented roster, and the Kings have a talented roster.
So who's on the radar for the Kings? We're going to give you a few options the Kings might explore and how those options play out with the different coaches, but first you need to understand the complexities of the situation.
The Kings are not, publicly or reportedly, under any financial strain, beyond the losses which were poured over in lockout talks. But the Maloofs were hit hard by the economic recession, which helped fuel their desire for the move to Anaheim last year that was thrwarted by the NBA. One of the primay reasons many believed Westphal would not be fired this season was due to the salary that must be paid to him in addition to a new coach. That the Kings felt it was imperative to move on is a good sign for Kings fans, indicating that they're willing to pay out the rest of the deal to get started on a new chapter. Still, the price tag on many of the options below may be too high. The situation in Sacramento goes beyond "get the best coach available."
Keith Smart:
In November of 2008, P.J. Carlesimo was fired from the
Thunder
after a 1-12 start. A young
assistant and former player Scott Brooks took over. Voila. OK, so Keith Smart is 47, and this is his third stint as interim head coach. But if Smart somehow manages to get through to this team (including yes,
DeMarcus Cousins
), that would be the best possible situation for all. Smart wouldn't cost a fortune and has continuity. Drawbacks? Well, he was part of the horrible start and he's failed to stick at the two previous interim spots. Smart drew mixed reviews in Golden State before the
Warriors
hired Mark Jackson. He's got his work cut out for him.
Larry Brown:
Yahoo Sports already brought up this possibility
, via an executive. Brown might be great for DeMarcus Cousins with his brutal, intense ways. It also might detonate. Brown has experience (there's the understatement of the year) and brings a high-value name to the project. But Brown is also renown for crushing the souls and dreams of young guards. Let's see.
Tyreke Evans
,
Marcus Thornton
,
Jimmer Fredette
... yeah, this is like an execution line of hope under Brown. Brown's also 71, so he's not a long-term solution. He's also going to want more organizational control than GM Geoff Petrie is willing to surrender.
Don Nelson:
Fast guards that don't play defense and a mercurial, angry forward? What could possibly go wrong here for Nelson? Nelson would likely want more control as well, and is no spring chicken either. But man would that team be fun to watch. This idea's already been
floated by the Mercury News
.
Mike D'Antoni:
See, it's a jump-to-conclusions mat! This one's out there, but it makes so much sense from a strategy standpoint. Say D'Antoni gets scapegoated (already happening) in New York because his front office listened to a former GM that wrecked their franchise and gave up the farm for a high-usage small forward who stuggles with anything except shooting out of ISO sets and rebounding. D'Antoni lands in Sacramento. Warmer weather. An explosive big man who's a bit of an enigma. Multiple players with liquid position skills. And a shoot-first undersized guard. Come on now. You want to watch this. Even a little. This has about zero percent chance of happening, but the idea was so good I couldn't resist listing it.
Phil Jackson:
Haha, just kidding.
Mario Elie:
Another Kings coach. Elie is popular with the players though, and has a longer history with the team. This is pretty unlikely given the team passing him over once, but if Smart is sent out at season's end after Westphal, Elie might be promoted.
Brian Shaw:
The man many felt should have gotten the job in Los Angeles might want the chance to go after his old team. Shaw is a players' coach, which might be just what the Kings need. If he were to want to put the triangle in place, though, run as fast as humanly possible.
Quin Snyder:
Snyder worked under the
Spurs
system in Austin as the Spurs' D-League coach, then as an assistant in Philadelphia under Doug Collins and this season as an assistant for Mike Brown and the
Lakers
. He's a development coach who can get through to players and has had nothing but good marks since his departure from Missouri. Plus Kings fans could get wigs of the hair, which is fun.