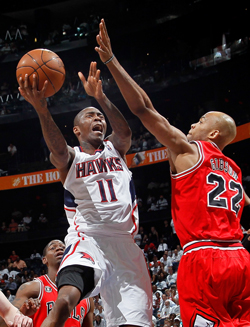 Posted by Royce Young
The free agent pool isn't all that deep, but there are a couple decent prizes out there. One that's drawing a good amount of interest around the league is
Jamal Crawford
who has been
flirting with Portland a bit
and Miami, but just mainly because LeBron's been tweeting about him.
But according to the New York Daily News
, Crawford also has some interest in returning to New York.
"Crawford is one of the top available free agents, and according to a source close to the veteran shooting guard, he prefers returning to the New York area if he does not re-sign with the Atlanta
Hawks
."
It's fairly unlikely that Crawford re-ups with Atlanta as the team shunned him all last season while he searched for a new contract. The
Knicks
would love to have his scoring punch to add to
Carmelo Anthony
and
Amar'e Stoudemire
, but Crawford is likely looking for more than the mid-level exception. And with the Knicks current cap situation, they probably can't do much more than that.
Especially
if the Knicks really are going to to try and straighten themselves out for a run at
Chris Paul
or
Deron Williams
next summer.
Crawford recently dropped agent Aaron Goodwin and signed with Andy Miller, according to the report. Miller's roster?
Chauncey Billups
,
Jared Jeffries
and Roger Mason. Miller's also based out of New Jersey. Not that those things actually mean all that much in terms of Crawford going to New York, but it certainly doesn't mean nothing.
The Knicks though are more in need of post help than another scorer. While Crawford would be enticing because of his scoring abilty, the Knicks need defensive help and a strong big man to play center. Stoudemire was forced to play the 5 all too often last season and with
Ronny Turiaf
as the likely top option there right now, the Knicks need help.
With that and the cap situation, really the only way Crawford ends up in New York is via sign-and-trade. And then again, are the Knicks willing to spend that money and completely blow any chance, no matter how small it may be, of snagging CP3 in 2012?
So consider this: The report says Crawford has interest in returning to the "New York area" next season. Guess who is in the New York area and will be even more there than in the past? The
Nets
. With their move to Brooklyn and the fact Crawford's new agent is based in the area, the Nets could be a strong option for Crawford. It makes a decent amount of sense too as the Nets need something to go next to Williams. They have to show Williams they're committed to building a winner and splashing for a guy like Crawford could be a start to saying so.