Chicago Bulls point guard Derrick Rose is reportedly suffering from stomach ulcers. Posted by Ben Golliver.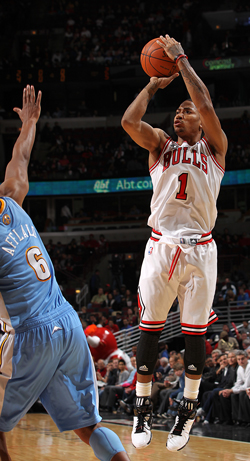 Chicago Bulls point guard Derrick Rose has been getting tons of MVP hype this week, but unfortunately he's dealing with a stomach malady that kept him out of practice on Wednesday and might limit his short-term availability.
The
USA Today reports
that Rose underwent tests for stomach pain after not eating for "several days" and the tests concluded that he is suffering from a stomach ulcer.
Rose said he thought he had heartburn Monday, then thought he was contracting the flu. Doctor told him to avoid spicy foods.
"It's real painful for me to eat," Rose said "If anything, I'm kinda sad I'm not (able) to practice."
The
Chicago Tribune reports
that Rose has two ulcers, although one of those is small. The paper also quoted Rose saying that the cause of his ailment wasn't stress, "I have to stop eating spicy food."
ESPNChicago.com quotes
Rose saying that his energy has been low recently.
"I haven't really been able to eat anything so my energy is kind of low, but every day it should be all right," he said. "I guess I've been eating too much spicy food or something like that, because I love spicy food. But other than that I think I've been eating well, besides the spicy food."
With his ridiculous crossover and much-improved jumper, Rose has been nearly unstoppable this season, but even super-hero point guards need to eat.
Rose has missed just one of Chicago's 45 games this season, and is averaging 24.6 points, 4.6 rebounds, 8.1 assists, 1.1 steals and .8 blocks in 38 minutes per game. The Bulls next face the Orlando
Magic
on Friday at the United Center, and the
USA Today
notes that Rose "hopes to play."
C.J. Watson
is the alternative should Rose be unable to go; Playing him heavy minutes would surely lead to an ulcer epidemic among the Bulls coaching staff and fanbase.