Posted by
Ben Golliver
.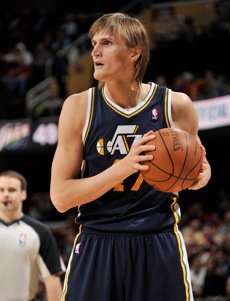 Andrei Kirilenko
, arguably the NBA's best remaining unsigned free agent, has taken himself off the market.
RT.com reports
that Kirilenko will remain in Russia, where he is currently playing for powerhouse CSKA Moscow, rather than return to the NBA during the 2011-2012 season.
"During this month I considered different options, weighting out all pros and cons, and I came to the conclusion that I should finish this season with CSKA," Andrey Kirilenko told CSKA's official website. "We've developed great team chemistry, the real team in the first part of the season. It would be inappropriate to stop halfway. It would be unfair toward my teammates and, more importantly, toward fans. I know how many people count on me."

"To play for CSKA is a great pleasure and fun, and I will do my best to win all the tournaments we are participating in. I am thankful to club's management for patience in my difficult situation. Thank you very much to all the fans for their support. Come to our games to cheer for CSKA," the 30 year-old added.
Kirilenko, 30, played 10 seasons for the Utah
Jazz
, posting career averages of 14.4 points, 6.6 rebounds, 3.3 assists, 2.4 blocks and 1.6 assists.
Back in October
, the versatile two-way player signed a three-year contract to play for CSKA Moscow, but the deal included an opt-out clause which would have allowed a return to the NBA.
A star on the Russian national team, Kirilenko was reportedly being pursued by the Sacramento
Kings
, among other teams, during the abbreviated preseason free agent period.
In November, Kirilenko
endured a scary fall
, suffering a concussion and breaking his nose when he slammed his head on the hardwood.