Miami Heat point guard Mario Chalmers could miss up to two weeks with a sprained right knee. Posted by Ben Golliver.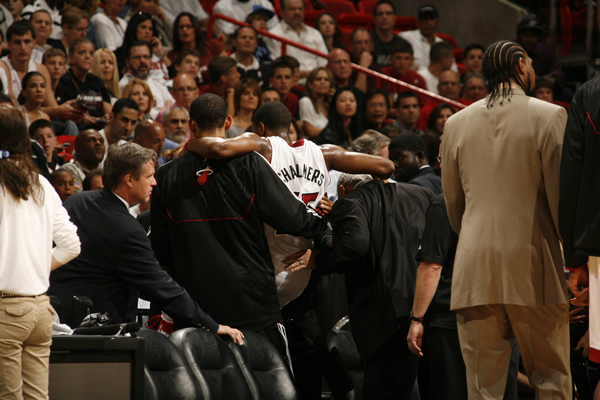 The Associated Press reports
that Miami Heat point guard Mario Chalmers, who has been starting for the club since late January, is expected to miss up to two weeks with a right knee sprain after undergoing an MRI on Sunday.
Chalmers went down against the Denver
Nuggets
on Saturday night. Here's how the
Palm Peach Post described
the injury.
Chalmers, who started his 27th straight game Saturday, landed awkwardly after a Denver Nuggets possession late in the first quarter, then stumbled toward the scorers' table as his teammates sprinted upcourt.
Miami called time-out, and several Heat players walked over to observe and encourage him.
Any time a player is carried off the court because of a knee injury, a sprain is really the best case scenario. That Chalmers should be back in plenty of time for the playoffs is worth a big sigh of a relief for Heat fans. But his absence comes during the crucial stretch run, as the Heat, currently the Eastern Conference's No. 3 seed, look to make up ground against the Boston
Celtics
and Chicago
Bulls
, who they trail by two games.
The Heat
recently signed
veteran point guard
Mike Bibby
, who was waived by the Washington
Wizards
after being traded by the Atlanta
Hawks
earlier this year. Miami had to release point guard
Carlos Arroyo
to make room for Bibby.
Even with Bibby on board, Miami coach Erik Spoelstra will likely turn over additional ballhandling duties to forward
LeBron James
, who has assumed that role earlier this season well.
The injury comes during a stretch of up and down basketball for Miami, as the Heat have split their last 10 games, going 5-5, with all five losses coming to playoff teams (
Magic
,
Spurs
, Bulls, Blazers and
Thunder
). If there's good news for Miami, it's that their schedule lightens up considerably with games against lottery teams like the
Pistons
,
Rockets
,
Cavaliers
, Wizards,
Timberwolves
,
Nets
and
Bucks
over the next three weeks. Chalmers or not, as long as the Heat show up they should be able to take care of each and every one of those opponents.