Posted by Ben Golliver.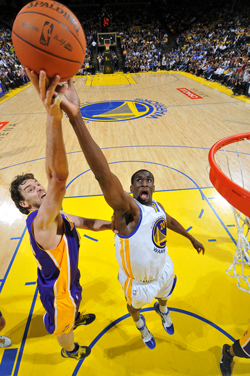 Last week, Gary Parrish and Jeff Goodman of
CBSSports.com reported
that David Salinas, a Houston, Texas, AAU director and investment manager, committed suicide following an SEC investigation into his financial dealings.
In the week since that news broke,
CBSSports.com has linked
a number of big-time college coaches to Salinas, with some investing more than $1 million with him.
On Tuesday,
SI.com reported
that it wasn't just college coaches who got taken for a ride by Salinas. Indeed, two NBA players reportedly invested money with him as well.
Two NBA players, 2010 Warriors lottery pick Ekpe Udoh ($350,000) and former Wizards swingman Cartier Martin ($374,000), were confirmed to be clients by SI.

Talk about a horrible way to start your NBA career. Udoh was on the books for $3 million last season, his only year in the league, and is now locked out as a sophomore, waiting until the current CBA negotiations are resolved before he sees another paycheck.
$350,000 is an extremely significant portion of his career earnings, especially if that was the money he put aside for investing. Depending on how much he's sunk into taxes and the usual accoutrements like houses and automobiles, there's no question that this loss hurts. The only question is exactly how bad.
As for Martin, it's even worse. He's played in the NBA for portions of three seasons as a journyeman. His salary for the 2010-2011 was less the veteran's minimum: $854,389.
Usually we think about NBA players being extravagantly wealthy with coaches making a fraction of what the professional players take home. In this case, however, it's very possible --- indeed, likely -- that the long tenured college coaches embroiled in this scandal will be better able to absorb the losses than the players.
Everyone involved, including the players, should have done their due diligence and known better than to invest such sums without more risk protection. It's almost unimaginably tragic to think about someone working their entire life to pursue their dream of playing professional sports only to see the rewards of those efforts evaporate in an alleged ponzi scheme. Udoh, as a lottery pick, should be able to take this less to heart and bounce back. Martin, however, with no guaranteed future in the NBA, has to deal with the fact that his best financial days could very well be behind him. At the ripe old age of 26.