Posted by Ben Golliver.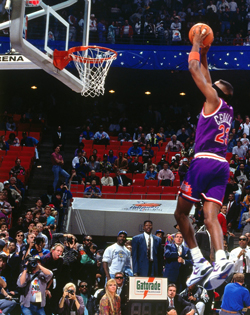 Former NBA All-Star forward Cedric Ceballos was hospitalized in Phoenix after suffering a "series of small heart attacks" on Sunday,
the Arizona Republic reports
.
"I feel blessed and very fortunate to be here today and to have made the decision to go to the hospital and get my symptoms checked out late last night," Ceballos said in a statement
posted
on the Phoenix
Suns
' official website. "I ask everyone to keep me in your prayers as I make my journey back to good health. Thank you everyone who has called and is concerned. While I want to respond and speak to everyone, I cannot right now, but will be in touch very soon. God bless you."
The Associated Press reports
that Ceballos will undergo heart surgery.
Ceballos, 42, played 11 seasons in the NBA, including stops with the Suns, Los Angeles
Lakers
, Dallas
Mavericks
, Detroit
Pistons
and Miami
Heat
. Following his retirement in 2001, Ceballos went on to play in Israel, Russia and the Philippines, before returning to the United States to play in the American Basketball Association. Ceballos is
currently a co-owner
of the ABA's Arizona Scorpions.
A member of the 1995 All-Star team, Ceballos averaged 14.3 points, 5.3 rebounds and 1.2 assists per game in his NBA career. He's best known for winning the 1992 Slam Dunk contest by completing a dunk while blindfolded.
Here's the video of his Dunk Contest victory
via YouTube user sauhadjj3
.