Posted by Ben Golliver.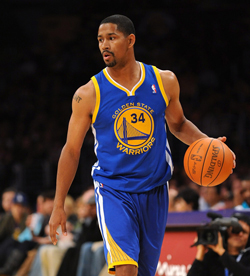 Talk about compounding one error in judgment with another.
SFGate.com reports
that Golden State
Warriors
back-up guard
Charlie Bell
showed up "legally drunk" to a court hearing regarding a recent DUI arrest.
Warriors reserve guard Charlie Bell spent hours in custody Thursday after showing up to court legally drunk for a hearing on his drunken driving case, according to the ABC affiliate in Flint, Mich.

Bell was held, in a district court holding cell, on a bond violation until he sobered up. He's expected back in court Friday, which marks the start of Warriors training camp for the rest of his teammates.

Bell, 32, a former Michigan State star, was arrested in Flint Township on Oct. 21 for drunken driving, driving on a suspended license and failing to stop at a stop sign.
In addition to this arrest, Bell was arrested on DUI charges
back in February
in California and reportedly had to be picked up from the pokey by teammate
Reggie Williams
. In May, Bell was
allegedly stabbed by his wife
, Kenya Bell, who was arrested. Bell later disputed the report.
The Warriors would be best served to waive Bell immediately or to demand that he seek help. It's way past time to admit that he has a serious problem. Enabling him in any way will not cut it and reflects poorly on the organization as a whole.