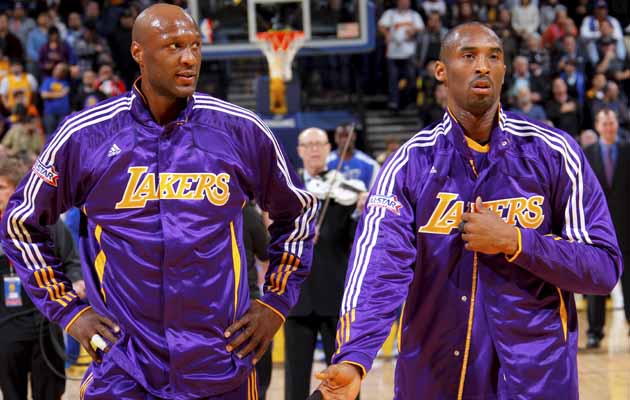 By Matt Moore
In life, you can often times connect every event as a consequence of a previous one. Whether by a confluence of factors or as direct result of a single act, one thing leads to another, put simply. But in the NBA it's even more so. There are only so many teams, only so many players, only so many ways to play basketball. The same coaches go through the cycles, the same front office officials,
Kurt Thomas
is on his ninth basketball team.
We're reminded of this when we start to examine the ramifications of what happened in the failed trade for
Chris Paul
by the Los Angeles
Lakers
in a three-way deal with the Houston
Rockets
and New Orleans
Hornets
. Attempts to revive the deal broke down Saturday night, and the fallout has been catastrophic for all three teams.
But perhaps most relevant is what happened has happened to the Los Angeles Lakers. It seems every year prior to the season there's talk of drama and this year is no exception. It was supposed to be quick and painless. Trade the star power forward that brought the Lakers two titles,
Pau Gasol
. Trade the enigmatic and complicated, but ultimately brilliant combo-forward
Lamar Odom
who has been the glue of the team for years to New Orleans. Done. But when the trade was denied by the league in what many describe as an outrage, it created a whole bucket of awkward.
Odom was happy in Los Angeles. It needs to be noted that he blossomed in LA under very specific circumstances. Phil Jackson was the calm, soothing voice he needed,
Kobe Bryant
the harsh glare to keep him in line. LA's Hollywood environment netted him a celebrity wife, complete with reality TV show, and commercial success. Warm weather, more money, the life of the party. And he got to compete for championships without having to be "the man." It was perfect. So to find out the team he'd help win two titles was ditching him, it upset him, and damaged his relationship with the team beyond repair.
ESPN reported Sunday night
that Odom requested a trade Friday night when the deal was initially rejected, and then reiterated that desire Saturday after thinking it over for 24 hours. In short, the attempt to trade Odom to a lottery team hurt the Sixth Man of the Year beyond repair. The bridge was burned. Faced with that, the Lakers reacted in a most-unusual manner. They traded him to the team that eliminated them from the playoffs.
The deal to Dallas
Nets
them nearly nothing, a simple traded player exception which they'll try and switch in another deal, presumably. But reports out of L.A. describe the trade as a pure "salary dump" based on Odom's wishes. This was a championship team. They were two-time reigning champs, who ran into a red-hot
Mavericks
team, and hit a cold streak. They could have been as much a contender for the West as any team in the league, especially with Dallas absent
Tyson Chandler
.
Now, they're a chemistry-set gone wrong.
Odom was going to be a major trade asset. The TPE is good, but it's complicated to use in deals and has to fit certain requirements. So now the Lakers have Pau Gasol who's grateful to still be in Los Angeles but still hurt by the decision to move him. Furthermore, Kobe Bryant's involvement here is key. Bryant said he did not approve of the trade. So either the Lakers failed to discuss either decision with Bryant, which is blowing up the championship core, or they did, in which case Gasol now knows Bryant was willing to throw away his sidekick for CP3.
Have we mentioned that the Lakers' employ a man named
Metta World Peace
?
The Lakers are obviously still gaming for Chris Paul,
Dwight Howard
, or both. But the impact of the league's intervention in a trade that was agreed to has levied a change in their makeup, one that could have devastating effects for the favorite son of the league. It's rare you find this, but the league may have dealt a severe blow to the Lakers, who are often considered sheltered by the league due to their popularity and profitability.
The Lakers went into the playoffs last season confident that their regular-season step-back was nothing more than the cost of the drag of the season, that they were more than ready to win the title for a third team, completing Phil Jackson's fourth three-peat and giving Kobe Bryant his sixth title to tie Michael Jordan. Eight months later, they're a fractured locker room with an uncertain future, simultaneously going two different directions, and trying to recover from the reality that their Sixth Man of the Year is now playing for their biggest conference rival.
The drama in L.A. is always high. But the league's decision to either exercise its right as an owner or overstep its boundaries as a caretaker role in overriding Dell Demps' deciison-making (depending on your opinion) means that they're facing the biggest challenge since they traded for Pau Gasol. Once again, it's lights, camera action at Staples, and the locker-room drama could bring an end to a dominant decade-plus from the league's most iconic franchise.