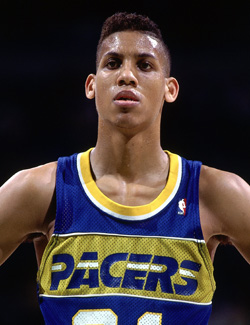 Legendary divisive player discusses playing as the villain as LeBron James prepares to eneter the lion's mouth Thursday night.
Posted by Matt Moore
"I used to encourage that, and I hope he takes this approach. I wanted to take the focus off my teammates, so I would do and say things," Miller said during a phone interview with The Associated Press. "When you have 20,000 people yelling and screaming at you, four other guys can concentrate on the floor. So every time I touch the basketball and everyone is yelling and chanting and doing things towards me, well four other guys can concentrate. I knew I could concentrate through that and I hope he takes that approach."
via
AP News : News Herald
.
Those are the words of Reggie Miller giving advice to LeBron James on relishing being a villain.
Miller clearly has a history of playing the bad guy in arenas like Madison Square Garden, but even he has never experienced anything like what James will face tomorrow night. Despite pleas from
people like our own Greg Doyel
(note: must-read), the Cleveland fanbase is a powder keg. There's just too much emotion over something they genuinely feel is personal.
The hatred for Reggie was theatrics, even in a much more violent era of the 90's, it's that kind of expression that probably kept the fans with some distance. As it stands James is set to face the expression of a city that has felt the brunt of the recession as hard as any city in America, which loves its sports teams as passionately as any but has also tasted bitter defeat time and time again, and who put too much in the hope of a (relatively) native son.
There's no Spike Lee who will be yelling in James' ear, instead it will be an army of likely-intoxicated, angry people venting their anger at a 25-year-old who embarrassed and hurt them in public. Whether it's reasonable or not, this is the reality. And while Reggie gained strength from that hatred from fans, those fans respected him. The kind of hatred LeBron's going to face? It's not respect. It's just going to be frightening.