Posted by
Ben Golliver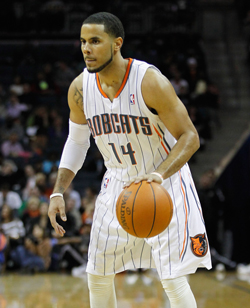 The Charlotte
Bobcats
will keep their option open.
The Charlotte Observer reports
that the Bobcats will not offer contract extensions to point guard
D.J. Augustin
or shooting guard D.J. prior to the upcoming January 25th deadline.
Augustin, 24, was a 2008 lottery pick and has been the team's starting point guard since the beginning of the 2010-2011 season. This year, he's putting up 15.3 points and 7.2 assists per game, a career-year.
White, 25, was also a 2008 first round pick, taken No. 29 overall by the Detroit
Pistons
. He too is in the midst of putting up career-best numbers, averaging 10.3 points and 5.7 rebounds per game.
This decision has far less to do with the play of Augustin and White and far more to do with the direction of the Bobcats. Following the trades of
Gerald Wallace
and
Stephen Jackson
, plus the addition of new GM Rich Cho, it was clear the Bobcats were undergoing a massive rebuilding effort.
Early extensions are generally handed out to players who performed spectacularly on their rookie deals or those who are deemed indispensable. When the Bobcats drafted
Kemba Walker
with a 2011 lottery pick, Augustin no longer qualified as indispensable and he's been solid, but never close to spectacular, in his four seasons in Charlotte. He currently
grades out
as the No. 22 point guard in the NBA when it comes to player efficiency. White is a nice piece but far from a building block.
Letting both players hit restricted free agency next summer comes relatively risk-free. The Bobcats have Walker waiting to take over if necessary and plenty of youth and talent in their front line. They can choose to retain Augustin and/or White with their matching rights next summer. Or, if the price is too high, they can simply move on in their plans to build around Walker,
Bismack Biyombo
and their 2012 draft picks. Either way, there simply is no impetus for making an immediate financial commitment to either player for a team that is currently 3-12 and destined for a high lottery pick.