Charlotte Bobcats forward Dante Cunningham was reportedly arrested for speeding and marijuana and a BB gun were found in his possession. Posted by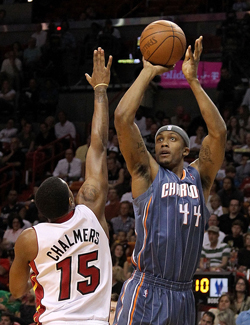 Ben Golliver.
NBA Players Rule No. 1: If you were drafted in the second round, traded during the season and don't yet have a contract for next season, don't begin your offseason by getting pulled over by the police for speeding.
NBA Players Rule No. 2: Definitely don't have marijuana and a loaded BB gun in your vehicle if you fail to adhere to Rule No. 1.
Unfortunately, Charlotte Bobcats forward Dante Cunningham allegedly violated both of these rules
according to NBCPhiladelphia.com
.
Dante Cunningham, former Villanova basketball star and current NBA player for the Charlotte Bobcats, was arrested in Radnor Township Friday, sources tell NBC Philadelphia.
Cunningham was pulled over by township police on the 100 block of East Lancaster Avenue for alleged speeding and reckless driving Friday, according to sources.
After Cunningham was pulled over, police found marijuana, a marijuana pipe and a loaded BB gun, sources say.
Cunningham is the son of two military parents and he has often joked about how strict his mother was in raising him. Just imagine her reaction to this.
You did what? You had what? Where do you even buy a BB gun, Dante?
On the bright side, this incident, while bizarre, fars fall short of
Delonte West
's
high standard for poor motor vehicle conduct
.