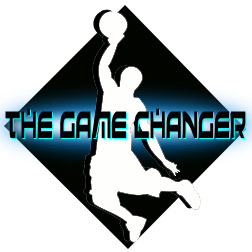 LeBron James and the Miami Heat finally lose, Elvis Night in Detroit, Blake Griffin throws down a double-pump dunk past Dwyane Wade, and the San Antonio Spurs run a gorgeous play for a big basket. Posted by Ben Golliver.
Each game is made up of elements which help formulate the outcome. Monday through Friday, we'll bring you the elements from the night before's games in our own specialized version of the game recaps. It's not everything that happened, but it's an insight into what lead to the results you'll see in the box scores. This is
the Game Changer.
THE BIG ONE: MIAMI HEAT LOSE AGAIN
LeBron James was
out with a sprained ankle
. It was the second night of a back-to-back. The team plane landed in the wee hours of the morning. The game was played at high altitude.
There are a litany of excuses, and reasons, that the Miami Heat got clobbered by the Denver
Nuggets
on Thursday night on national television, 130-102, but, in the aftermath, James' absence will serve as the lightning rod.
Without their leading scorer and best play-maker, the Heat looked listless, settled for bad shots, couldn't really guard anybody, played deeper into their bench than they usually do, and generally didn't get up for the moment. What's more, the other two parts of the Big 3, Dwyane Wade and
Chris Bosh
, were -25 and -26 respectively, combining for just 40 points when 75 or so was needed.
James' absence and the promise of his return makes this loss a lot easier to take for the Heat and their fans, although it's got to be a touch disconcerting for James, who came to Miami with the idea he was seeking out teammates who could meaningfully help him shoulder the load. But it's not panic time, by any means, as James surely understands that a Big 3 makes for a contender and any Big 2, no matter how big, is only good enough to be a pretender in the top-heavy NBA.
As for Heat coach Eric Spoelstra? Well, he doesn't appear to be taking the loss very well.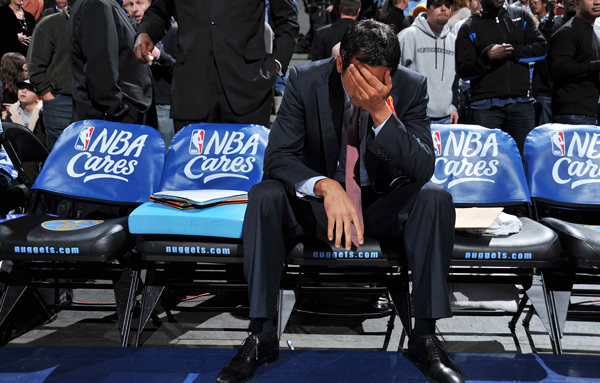 GO-GO-GADGET LINES OF THE NIGHT:
Russell Westbrook
: 32 points, 10 rebounds, 13 assists, one steal and two blocks in 42 minutes in an Oklahoma City
Thunder
home win over the Orlando
Magic
.
Kevin Love
: 35 points, 11 rebounds, and four assists in 41 minutes in a Minnesota
Timberwolves
home win over the Washington
Wizards
.
Dwight Howard:
39 points, 18 rebounds, two blocks in 43 minutes in an Orlando Magic road loss to the Oklahoma City Thunder.
DON'T MISS:
WHIMSY:
This is a pretty breathtaking ensemble from LeBron James: winter coat, dress pants, dress shoe and Nike flip flop, necessitated by his sprained ankle, of course. It's likely this is the first time in the history of the universe that someone has ever worn this outfit.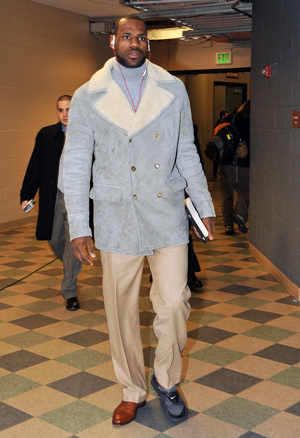 HIGHLIGHT REEL:
I'm not sure if Minnesota Timberwolves center
Darko Milicic
is
a future All-Star,
but he did manage to tip a jump ball into the wrong hoop, scoring two points for the opposition. Insane and so unlucky. Unfortunately, in typical Darko fashion, this weird news becomes the headline on a night when he put up 14 points and 11 rebounds.
FINAL THOUGHT:
A great quote from Orlando Magic head coach Stan Van Gundy, on Oklahoma City Thunder forward
Kevin Durant
after he went off for 36 points on 17 shots last night. "What haunts me are guys like Kevin Durant," Van Gundy said. "So, I would say this building is haunted because of guys like him, as are most of the buildings in the NBA. I haven't run into a haunted hotel, just haunted arenas."
Via DailyThunder.com
.