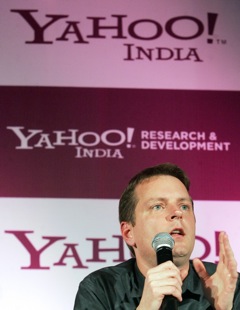 Posted by Royce Young
Pretty much if you're wealthy and from New Orleans (or at least Louisiana), you're going to at least be asked about buying the
Hornets
.
And that was the case with Yahoo! co-founder David Filo
who happens to be wealthy and from the area.
But Yahoo! reported today that Filo isn't a candidate to buy the team.
The original rumor came from a New Orleans television reporte
r and evidently there's nothing to it. But that's according to a statement from a Yahoo! public relations person, so if we've learned anything from the NBA, a denial doesn't necessarily mean it's not true.
At the same time, unless there's a sentimental reason Gilo would want the team, it doesn't appear to be the best investment, at least from what
we saw from the financial documents.
So far, that's the only major name that's surfaced from the New Orleans area. Every other candidate is an out of town buyer, something the NBA
supposedly
doesn't want to look at, because they want to keep the team in New Orleans. But the league also isn't going to eat $300 million, so basically if you want an NBA franchise and you've got around $300 million in your piggybank, you can have them.
Filo could have been looking at the option and backed off for now. Maybe he'll re-evaluate later. But right now, a prospective owner doesn't appear to be showing up any time soon. If that was the case, George Shinn would've held on to the team and sold it to someone else when Chouest stepped down.
There's a reason nobody wanted to buy. There's a reason the NBA had to step in. With other franchises you see four or five people putting in a bid to try and win over the right to buy the team. But with the Hornets, it's pretty much raise your hand at the auction and you'll hear sold.