Houston Rockets center Yao Ming has retired. Here's a roundtable discussion about what it means. Posted by EOB staff.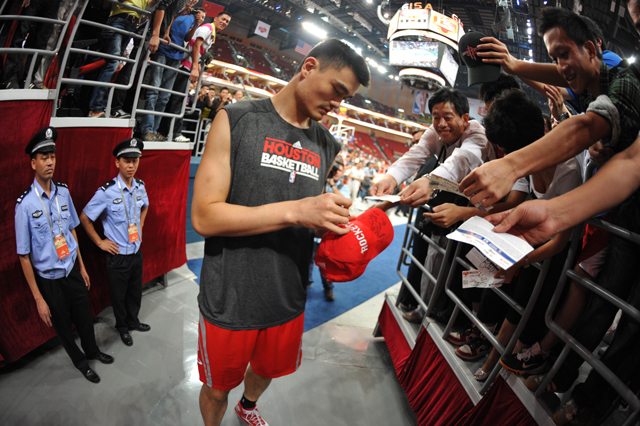 Matt Moore:
Is Yao Ming a Hall of Famer?
I'm leaning towards no. He only had two 20-10 seasons where he played over 60 games. There's the Chinese cultural impact and the fact that he was the best center in the league from 2006-2009. But other than that, I'm having a hard time justifying his entry to the Hall.
Ben Golliver:
Definitely not based on his NBA record. Didn't play enough games, win enough playoff series, take home enough individual hardware or influence the game's development. But he will get in like Arvydas Sabonis did on the international side for sure. And more than deservedly so. He was a pivotal factor in both the game's spreading influence into China and China's growing interest in the game.
Royce Young:
I'm with Ben. There's no denying the impact he made and how important of a player he was to expanding the NBA's global brand, but in terms of what he did on the floor, I don't think so. His 2006-07 season was outstanding, but a lot of players have had really nice isolated seasons here and there.
No doubt he'd be one if injuries hadn't sidelined him, but that's part of it and the reality is, he just didn't play enough.
But in terms of an international Hall of Famer, absolutely. In terms of an NBA one, he simply didn't play enough. I don't think there's a special exception just because someone had a cultural impact (I mean, he's not exactly Jackie Robinson here). It's about what you did and didn't do on the court.
Matt Moore:
Let's say he'd stayed healthy. What would his career ceiling have been?
Ben Golliver:
Exactly halfway between Mark Eaton and Shaquille O'Neal.
Royce Young:
He played in eight seasons and at his size, I don't really think he would've played more than one or two more anyway. He just would've had really nice numbers. He finished with what, 19-9 for his career? I bet he would've been like 22-10 and been, along with Shaq, one of the most dominant players in the league for a decade. Surefire Hall of Famer if he had stayed healthy.
Matt Moore:
If Yao had stayed healthy, would we consider
Dwight Howard
's career differently? I can see making the argument for Yao being better than Dwight all the way until 2009, which slightly impacts Dwight's overall impressiveness.
Ben Golliver:
I think Yao, unfortunately, will always be an overlooked oddity when we talk about the history of big men. Because of his outsider status and unprecedented size/skill set, Yao had
Dirk Nowitzki
's predicament of needing to win a title to justify (and explain) himself, only taken to a whole new level.
I just don't think he ever would inch his way into the American lineage without a ring or an MVP award (or two). It's just way too easy for history to trace from Abdul-Jabbar to Olajuwon (who gets a pass because he played for a high-profile college here in the States and went on to win rings) to Robinson to O'Neal to Howard. I'm not saying that's fair or how it should be, but I think that's his lot in life even if he had been healthier and 10%+ more productive.
Royce Young:
There is an almost irrational thing about if a big man is truly good, he'll lead you to a title. But that's obviously not true. Patrick Ewing taught us that.
I really think if Yao had been fully healthy for 10 straight seasons, he'd have an MVP. Maybe not a title, but he'd have been one of the five scariest matchups night-to-night in the league.
Ben Golliver:
Ewing is a great example because I just totally left him out of the lineage (because he didn't win a title when multiple people playing concurrently did?). He's the extraneous one in the Olajuwon/Robinson/Ewing trio, right? And he even had the biggest market team, plenty of deep playoff exposure and a high-profile American college to his advantage, which Yao didn't. Once a dominant center leads a team to a title post-Shaq, I think Yao is even more doomed.
If we're looking to spin a resolution somewhat positively, I think it's best to remember Yao as one of a kind than as one in a line.