Posted by Matt Moore

Out of nowhere, the Grizzlies rose to relevance last year, nearly making the playoffs in the hyper-competitive Western Conference. Over the summer they bucked up and paid the bill to keep Rudy Gay and became embroiled in a bizarre holdout with their rookies. The team again has low expectations and is flying under the radar. The question most people have is if they can possibly succeed like they did last season, and is that nearly enough? We take a look at where the Grizzlies are as we continue our Preseason Primers...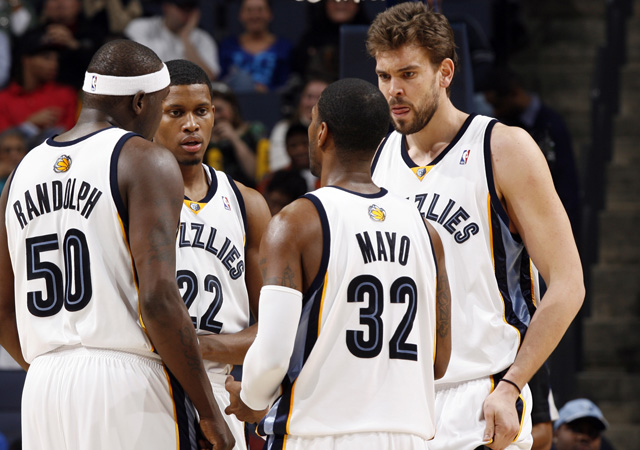 Training camp site:
Memphis Grizzlies
Training camp starts:
September 28th
Key additions:
Tony Allen
(free agency),
Acie Law
(free agency),
Xavier Henry
(draft)
Key subtractions:
Ronnie Brewer
(free agency)
Likely starting lineup:
Mike Conley
(PG),
O.J. Mayo
(SG), Rudy Gay (SF),
Zach Randolph
(PF),
Marc Gasol
(C)
Player to watch:
Xavier Henry. Why? Because we haven't seen him since Kansas finished getting eliminated by a massive underdog in the NCAA tournament. Henry was absent from Summer League due to the holdout stemming from Michael Heisley's bizarre insistance that the rookie earn his bonus by doing something extra as far as performance. Like, some sort of bonus performance. Silly man. Eyes will be on Henry, whose play could have multiple impacts on the Grizz. If he solidifies the backcourt rotation, the Grizzlies will finally gain some depth after being one of the shallowest rotations in the league last season. Furthermore, if he can work with O.J. Mayo as a pair of combo guards, it could mean less time for Mike Conley. With Conley coming up on a possible extension, these are relevant questions not just for this season, but going forward.
Chemistry quiz:
How can the frontcourt stay chipper? Marc Gasol, whose overall play may have been better than All-Star Zach Randolph last season, continues to face the fact that the Grizzlies drafted
Hasheem Thabeet
with the second overall pick.
Hamed Haddadi
occasionally looks like a player worthy of minutes.
DeMarre Carroll
needs to compete and compete hard in training camp if he wants to find minutes this year. The Grizzlies aren't deep in the frontcourt, but given the bizarre makeup of the players involved, its a wonder they got along so well last year. But they did. Shockingly, after Allen Iverson departed for the basketball ether, the team became very close, constantly rushing to each other in confrontations and celebrating. The team genuinely likes each other. They're like a peacful commune... that probably smells really bad at times.
Camp battles:
Backup point guard should be a good one, with Acie Law,
Greivis Vasquez
, and other camp invites vying for the backup slot. Okay, maybe "good one" is a bit much, but it should be competitive, especially given there's not that much of a gap between those players and Mike Conley in the point guard department.

Injury issues:
The Grizzlies are primarily healthy. Marc Gasol looked completely healthy in the FIBA tournament, though the wear and tear may have some impacts. All in all, they're a young team that's pretty healthy.
Biggest strength:
Up and down. The Grizzlies can get up and down the floor and have an efficient offense. They crash the offensive glass especially well with Randolph and Gasol. They hustle and very rarely get caught without an option to create a shot.
Glaring weakness:
Yet again, the answer is defense. The Grizzlies aren't individually terrible on defense, they're just bad within the system. Part of that function is built around their inability to get rest. The starters always play, and they get worn down. Plus, they're young. Put simply, if the team defense doesn't improve considerably, the odds of their record improving the ten games they need to make the playoffs are slim.