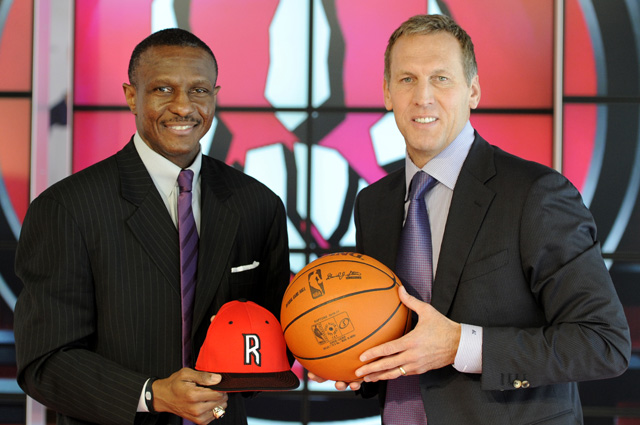 Posted by Matt Moore
The
Raptors
gave President of Basketball Ops (PBO) Bryan Colangelo an extension. They've hired their new coach, Dwane Casey. Now they're targeting a GM. Though Colangelo has every intention of staying at the top of the decision-making tree, he's looking for a general manager to handle some of the work. Yahoo! reports on some of the candidates on the shortlist:
Former New Orleans Hornets GM Jeff Bower, Philadelphia 76ers GM Ed Stefanski and San Antonio assistant GM Dennis Lindsey are three focuses of the franchise to work under Toronto president Bryan Colangelo, sources said.

No formal interviews have been conducted, sources said, but Colangelo has started the process of getting permission from teams to talk to candidates. It may not be until August that Colangelo starts formal interviews for the job.
via
Raptors look at GM candidates - NBA - Yahoo! Sports
.
Stefanski is an interesting inclusion because it serves as an indication that the relationship between Stefanski and PBO Rod Thorn for the Sixers may not be as smooth as it was initially believed to be when Thorn joined the Sixers last year. If the Raptors believe Stefanski's available, especially for what is essentially a toothless position, it calls into question where Stefanski sits in the Sixers organization.
Lindsey is part of the Buford-Popovich tree and therefore difficult to argue against. Bower is another interesting case because of the politics and history behind his departure from New Orleans. Bower made some brilliant moves in New Orleans, but also chose too many veteran long contracts. Being associated with a team that wound up having to be bought by the league isn't great, either.
It'll be important to watch how the relationship between the new GM and Colangelo is managed. Colangelo will be fighting to keep power, but if this is a directive from Raptors ownership as part of his extension, it could be a dynamic relationship with complicated effects.