Posted by Ben Golliver.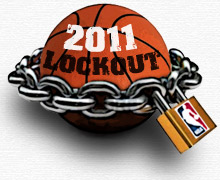 Getting rich people to brag about their investment wins? Not all that hard. Getting rich people to talk about their big losses? Significantly more difficult.
That's what's made the back-and-forth concerning the NBA's overall financial landscape so confusing. The players have pointed to hard numbers showing record revenues while the owners have made vague, sometimes disputed, references to their losses and refused to open their books for an independent inspection by the media.
One team long assumed to be struggling financially was the Philadelphia
76ers
. The Sixers were a bottom-6 team in home attendance last season, haven't advanced out of the first round of the Eastern Conference playoffs since 2002-2003, have finished above .500 once in the last eight seasons and haven't had a true star or box office draw since
Allen Iverson
was traded to the Denver
Nuggets
in 2006.
Earlier this summer, Comcast-Spectacor, the Sixers ownership group, agreed to sell the team to a group headed by Joshua Harris, a co-founder of Apollo Global Management, an investment firm. Ed Snider, Comcast-Spectacor's chairman, explained why in
an interview with the Associated Press
.
"It was mostly economics," Snider said of the decision.

Losing money?

"A lot," Snider said, declining specifics. "We felt that we had given it our best shot and it was time for someone else to take over."
Snider's company still owns the Wells Fargo Arena, where the Sixers play, and the National Hockey League's Flyers, who are also a tenant. Peter Luukko, Comcast-Spectacor's COO, was quoted by the Associated Press explaining the new situation.
Comcast-Spectacor COO Peter Luukko said the Sixers were on the market because the sports and entertainment company decided to reallocate its capital and focus on expanding its facility management, food services, and ticketing subsidiary endeavors.


"It's not like teams are big moneymakers these days," Luukko said. "At the end of the day, it's not like we're losing the team because we still have the team on a long-term lease. It's the best of both worlds. It gives somebody an opportunity to be an owner and put their stamp on the team. For us, we'd love to have them as a tenant."
The NBA has claimed throughout the lockout that its financial model is broken. Snider's frank comments and the circumstances surrounding the franchise -- the arena and the NFL team -- seem to reinforce that point.
It's one thing for current owners to cry poor but continue to operate in the so-called broken financial model. It's another for an owner to explain his departure by bluntly saying he was taking too big of a hit, while his company continues to operate in other related industries.