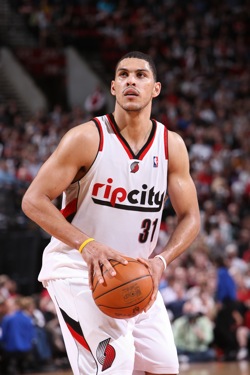 Posted by Royce Young
It just doesn't seem possible that one team could have so much bad luck with one position. But it almost seems like playing center in Portland is becoming a death sentence. It's like the basketball equivalent of being the drummer for Spinal Tap.
But according to
Trail Blazers
radio play-by-play broadcaster
Brian Wheeler of 95.5 FM via Blazersedge,
Blazers center
Jeff Pendergraph
fell to the floor during the second quarter of tonight's preseason game against the Utah
Jazz
, clutching his right knee in pain.
After getting attention from the medical staff, Pendergraph was eventually taken off the court in a wheelchair.
Jason Quick of The Oregonian reported
that the injury "appears to be serious" and that Pendergraph "was wheeled off with his right knee extended and Jensen holding his foot." Huge bummer sauce.
But let's count it up now. Of course there's
Greg Oden
, then Joel Pryzbilla, then Greg Oden again and now Jeff Pendergraph, all with knee injuries.
Marcus Camby
, fear for your life.
Pendergraph is entering his second year out of Arizona State and because of the recovering big men in Portland, he was set to have a chance to play some legit minutes. Now the Portland front line just got extremely thin again. Erik Dampier has reportedly been in touch with the Blazers before this, but Rich Cho might take a more active approach to pursuing the free agent big man now.
At this point, it passed the point of not being fair in Portland. It's kind of ridiculous. This wasn't even an injury 10 games in. This was a major injury in preseason that could send the Blazers into scrambling to try and fill out their banged up front line.
I don't mean to make this sound like Pendergraph was going to be an All-Star and The Missing Piece, but any time you lose a contributing big man and your other big men aren't full healthy, things get tough. But nowadays, it's just life in Portland. For shame.