Posted by Royce Young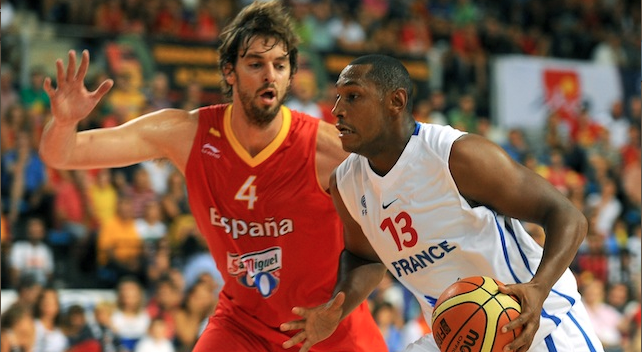 Actual competitive basketball being played in an actual arena with actual NBA players! No, this isn't another Drew League versus Goodman League showdown -- it's better. It's Eurobasket 2011 and if you're completely starved for some quality hoops, then welcome your all-you-can-eat buffet of basketball.
You're probably sick of people trying to convince you how quality the European game has become, and while no, it's not the NBA, it is about as good of basketball as you're going to get. And with the labor negotiations going about as well as Charles Barkley in a marathon, this might be one of your last chances to get competitive basketball.
The EuroBasket tournament features 24 countries all with the opportunity to put away an automatic bid to the 2012 Olympics in London. The top two finishers get an automatic bid while four bids to the Pre-Olympic qualifying tournament (for third through sixth) are at stake as well. But it's not only about the Olympic bids. It's about taking home a title for your country against the top competition in Europe. It's a
big deal
.
It starts up Aug. 31 and runs through Sept. 18. It's going to be a frantic few weeks of hoops with big names like
Pau Gasol
,
Dirk Nowitzki
,
Luol Deng
and
Tony Parker
. Let's take a look at the field.
Group A: Britain, Lithuania, Poland, Spain, Turkey, Portugal
Group B: France, Germany, Israel, Italy, Latvia, Serbia
Group C: Bosnia, Croatia, Greece, Macedonia, Montenegro, Finland
Group D: Belgium, Bulgaria, Georgia, Russia, Slovenia, Ukraine
(A heads up: Every game of EuroBasket can be watched free on ESPN3.com.)
THE FAVORITESSpain
-- Pau Gasol.
Serge Ibaka
.
Ricky Rubio
.
Jose Calderon
.
Rudy Fernandez
.
Marc Gasol
. If you're looking for your NBA fix, the Spaniards are your team to watch. They're going to play the most fluid, flashy game of anything and with players like Ibaka, Gasol and Rubio, will blend athleticism and skill together nicely.
It's really Spain's tournament to lose. There's just so much talent on the team, not even including the big names.
Sergio Llull
, recent first round draft pick Nikola Mirotic and the irresistible Juan Carlos Navarro make Spain the can't-miss team and clear-cut favorite.
NBA players: Pau Gasol (
Lakers
), Serge Ibaka (
Thunder
), Ricky Rubio (
Timberwolves
), Jose Calderon (
Raptors
), Rudy Fernandez (
Mavericks
), Marc Gasol (
Grizzlies
)

Lithuania
-- The Lithuanians are sort of a borderline favorite, but they are playing the tournament in their home country, so that's an advantage. Plus, there's talent scattered throughout the team with players like lottery pick
Jonas Valanciunas
,
Donatas Motiejunas
and Sarunas Jasikevicius.
NBA players: Jonas Valanciunas (Raptors), Donatas Motiejunas (Timberwolves)

France
-- Quietly, the French have assembled a pretty stellar team. Most aren't listing them as a top tier favorite, but it's hard to ignore the talent. A core of
Nicolas Batum
,
Joakim Noah
and Tony Parker make them a squad strong enough to consider. Add in Rodrigue Beaubois (if he's healthy),
Kevin Seraphin
,
Mickael Pietrus
and Kevin Seraphin and that's a quality rotation of players.
They don't have the same level of talent as Spain, but if Batum can emerge as a go-to scorer to supplement Parker, the French team could make noise in the knockout rounds.
NBA players: Tony Parker (
Spurs
), Nicolas Batum (
Trail Blazers
), Mickael Pietrus (
Suns
), Joakim Noah (
Bulls
), Rodrigue Beaubois (Mavericks), Kevin Seraphin (
Wizards
),
Ronny Turiaf
, injured though (
Knicks
),
Ian Mahinmi
(Mavericks),
Boris Diaw
(
Bobcats
)
Serbia
-- One of Europe's most consistent powers, Serbia features a smooth balance of interior scorers and outside shooters.
Nenad Krstic
is the anchor but don't underestimate players like Milos Teodosic and Milenko Tepic. Serbia doesn't have anything all that flashy, but it's a team that's stayed together for a while and knows how to play extremely well with each other.
NBA players: None
THE DARK HORSESGermany
-- They have Dirk. That's enough to at least warrant consideration. Now after that it doesn't look extremely strong, but it's Dirk and if we learned anything, the dude can play in big moments. He can carry a team that otherwise looks like a batch of just mid-level players to a higher place and win with them. So I'm not doubting him one bit in this tournament.
Plus there's
Chris Kaman
and Thunder property Tibor Pleiss there with him, which gives Germany a pretty formidable front court.
NBA players: Dirk Nowitzki (Mavericks), Chris Kaman (
Clippers
)
Russia
-- One thing that constantly intrigues me with the Russian team is coach David Blatt. He's an American coach that played for Pete Carril at Princeton and has been extremely successful overseas with major clubs. The team has some talent, but nothing to get too excited about. It would take a breakout tournament from
Timofey Mozgov
or swingman Victor Khryapa a huge showing from
Andrei Kirilenko
for them to truly contend, but they could be medal contenders.
NBA players: Timofey Mozgov (
Nuggets
), Andrei Kirilenko (
Jazz
)
Slovenia
-- Slovenia's the Atlanta
Hawks
of Europe. Always solid, never good enough to win. They have some quality players, but lack enough quality size to compete with Spain, Lithuania or France.
NBA players:
Goran Dragic
(
Rockets
)

Turkey
-- Last year's World Championship runners-up to the United States, Turkey has most of that team back. It's a good group and one that could certainly get hot and make a run again, but the World Championship run came largely because of a huge bump from a home court advantage. Not happening again in Lithuania.
NBA players:
Semih Erden
(
Celtics
),
Omer Asik
(Bulls),
Ersan Ilyasova
(
Bucks
),
Enes Kanter
(Jazz),
Hedo Turkoglu
(
Magic
)
THE MIDDLE GROUNDGreece
-- When their fluid passing is leading to open 3s (which they make), the Greeks are a problem for people. But when they're missing, they're a team easy to run over. They're scrappy and will claw on each possession, but reality is, they just don't have enough talent to hang with the bigger clubs. They do have one of the funner players to watch in Dimitrios Diamantidis, so keep an eye on him.
NBA players: Kostas Koufos (Nuggets)
Croatia
-- Much like Slovenia, Croatia is a squad that is always in the conversation, but lacks the firepower to truly contend. Hard to figure where the points will come from for them in big spots. They'll be good enough to likely win Group C, but after that, it'll be a tough road to advance.
NBA players:
Bojan Bogdanovic
(
Nets
)

Great Britain
-- I'm intrigued by this British team despite it not having any depth whatsoever. Had
Ben Gordon
been cleared to play, the Brits would've had a dark horse caliber team. Instead, they'll have to fight to get out of group play. Luol Deng is good enough to carry them some with Joel Freeland and
Ryan Richards
potentially adding some scoring pop from inside.
Don't worry though: They've already qualified for the 2012 Olympics. Because, you know, they're hosting it.
NBA players: Luol Deng (Bulls)
Italy
-- There's a little something to the Italian team. Danillo Gallinari,
Marco Belinelli
and
Andrea Bargnani
give them some scoring. Problem is, can they stop anyone? It's a decent team and one that can probably make the knockout round, but not much after that.
NBA players: Danillo Gallinari (Nuggets), Marco Belinelli (
Hornets
), Andrea Bargnani (Raptors)
Montenegro
-- Not a powerful team but one with some consistent shooters and a couple decent interior players. Montenegro could very well be every bit as good as Slovenia or Croatia, but their roster doesn't strike you as anything special.
NBA players:
Nikola Vucevic
(
76ers
),
Nikola Pekovic
(Timberwolves)
THE NO CHANCESBelgium
NBA players: None
Israel
NBA players:
Omri Casspi
(
Cavaliers
) -- Casspi's unlikely though because of injury
Bosnia
NBA players: None
Macedonia
NBA players: None
Georgia
NBA players:
Zaza Pachulia
(Hawks)
Ukraine
NBA players:
Kyrylo Fesenko
(Jazz),
THE BLOWOUT FODDER

Poland
NBA players: None
Finland
NBA players: None
Portugal
NBA players: None
Latvia
NBA players: None
Bulgaria
NBA players: None
PREDICTION
: If Spain doesn't reach the final, it's a massive disappointment and a massive shock. It's really just a matter of who will challenge the loaded Spaniards. I see the final four teams being Spain, France, Lithuania and a dark horse in Germany. A lot of people aren't necessarily on the French bandwagon, but I see a team with a bunch of talent that could possibly put together a little run. The safe bet is to go with a Spain-Lithuania final (this of course assuming the teams match up correctly in the knockout round), but I'm looking at
France to fall to Spain in the gold medal game
but still earn that automatic bid to London in 2012.