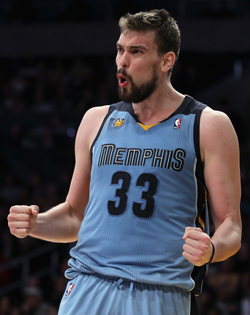 By Matt Moore
Real Madrid is a major player in Spanish basketball. They added
Rudy Fernandez
(in all his blind-three-pointer greatness) and
Serge Ibaka
(who we're pretty sure could block shots blind) just yesterday. A report Wednesday however indicates that they want to pull off the biggest move yet by signing former FC Barcelona and Memphis
Grizzlies
center
Marc Gasol
.
Marca reports
that the team wants to put in a huge offer for Gasol to try and lure him overseas, as transcribed by Sportando:
Real Madrid is studying the possibility to make a rich proposal to Marc Gasol. The Spanish team wants Marc Gasol to be the franchise player for the future.

Florentino Perez, president of the club, gave his approval to the entire operation. The biggest hurdle is the NBA lockout. Marc Gasol said that he will start considering proposals from Europe and Spain just if the NBA season will be completely cancelled.
via
Real Madrid is willing to sign Marc Gasol to a 4-5-year contract | Spain | Europe | Sportando
.
First of all, FC Barcelona is the most likely candidate to bring in Gasol, since it could conceivably bring back
Ricky Rubio
and pull in
Pau Gasol
should the season go down the tubes. Thats' where their roots are, and they have to be considered the leadres, but Madrid is clearly putting its money where its mouth is.
But this talk that Gasol could sign for the "future" is insane. Gasol is going to pull in a higher contract than what
Kendrick Perkins
agreed to with the
Thunder
. If the Grizzlies are dumb enough to let Gasol walk, which they have shown no intention of doing (Gasol is the one player, even more so than
Mike Conley
or
Zach Randolph
, that Grizzlies' owner Michael Heisley has insisted will be with the club long-term), then he's going to get any number of offers from every team with cap space in the league.
Gasol's not a premium scorer, but he's a supremely efficient one. He's not a monster shot blocker, but he's a better defender than most of the shot blockers you'll find. He's able to manage the pick and roll at both ends of the floor, is an excellent pinch post passer, has good footwork and touch out of the post, and no character issues. He's the ultimate non-star.
So, no, I don't imagine that he'll be heading back to Spain long-term considering what he can make in the NBA. Plus, he's spoken repeatedly about Memphis being his home since he went to high school there while his brother was not winning playoff games with the Grizzlies.
But short-term? The bidding war could get very interesting if we don't have a season in the NBA.
(HT:
PBT
)