Posted by Ben Golliver.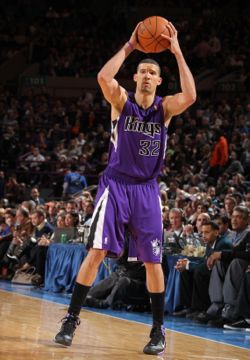 First things first, Sacramento
Kings
wing
Francisco Garcia
is not overweight. He's not even portly. He's muscular, sure, but not really the type of guy you would expect to break something simply by sitting on it.
But, as it so happens, Garcia missed more than half of the 2009-2010 NBA season because he sustained an injury when an exercise ball he was sitting on popped.
Reuters.com reports
that Garcia has launched a lawsuit against the ball's manufacturer.
Sacramento Kings guard-forward Francisco Garcia has filed a federal lawsuit against the maker of an exercise ball he blames for a 2009 weightlifting accident that left him with a broken arm.


The 6-foot-7, 195-pound Dominican native was balancing himself on the Stability Ball Gymnic Plus while lifting dumbbells when the ball exploded, throwing him to the floor and causing him to break his right forearm, the lawsuit said.

The companies that make and distribute the ball should have known the product was dangerous because of similar incidents in the past, Garcia alleged in his complaint.
At the heart of this dispute, most likely, will be the question of whether Garcia was using the ball as the manufacturer intended by lifting weights while on it and/or whether the weights played a role in his injury. If he wasn't using the apparatus as described, the manufacturer can make a fairly compeling case that he caused his own injury, regardless of whether there were previous malfunctions.
We're in a lockout, though, so Garcia might as well sue. His free time and need for income will not be this high again until he retires from the NBA. I just hope Garcia was able to find one of those "We don't get paid unless you get paid!" personal injury lawyers. Then he would really have nothing to lose.
Hat tip: @JonesOnTheNBA