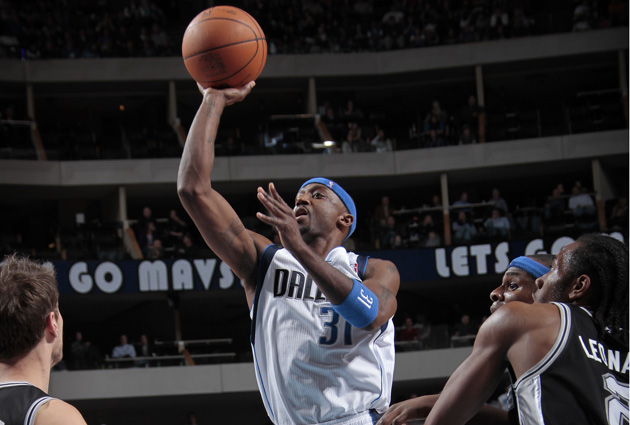 Jason Terry helped the Mavericks survive against a Spurs bench run Sunday night.
(Getty Images)

By Matt Moore
DALLAS -- The Dallas Mavericks, as much as any team in the league, know that this is not anything like a normal season. There are games packed on top of games packed on top of games.
Dirk Nowitzki
is still trying to get into his normal game condition, evidenced by his struggles in his first game back. The Kardashians are prowling the arena along with the realities of their television show, and have we mentioned the schedule is insane?
Those are just some of the reasons that led Mavericks head coach Rick Carlisle to call this year, "wacky" after the Mavericks'
101-100 win over the San Antonio
in Dallas Sunday night.
"It's a wacky year," Carlisle said, "and there's a lot of things going on with crazy scores and leads and deficits disappearing, so you've got to be ready for anything. We're fortunate, but it's a good win. "
Wacky. Much like this up and down win that did not come easy. The Mavericks held a strong lead in the third quarter, lead by
Vince Carter
who finished with 21 points on 8-15 shooting. But then, Spurs coach Gregg Popovich, who Mavericks guard
Jason Terry
later called "a mastermind" and who Carlisle called "the greatest coach really ever in this game," pulled his starters. Completely. With 2:12 to go in the third quarter. From there on out it was entirely bench players, and instead of a weak surrender, the trio of
Danny Green
,
Gary Neal
, and
James Anderson
poured in a flurry of lay-ups and three-pointers. The bench squad scored on 8 of 9 fourth quarter possessions to take the lead. Another blown lead in a wacky year.
"We gotta keep working," Carlisle noted after the game. "I love the fact that we came back from nine down in the fourth. It's a tough position to be in, but the guys fought and got it tied and in overtime we were able to get out of here."
"Getting out of here," that's probably the theme of the NBA season for almost all the teams caught in this hellacious compacted schedule. It's some sort of weird, mutant version of the age old cliche of "survive and advance." In this year with so many outliers, teams need depth, and they need pacing, and they need some luck. The Mavericks have had little of that this year, but having the kind of veterans they do gives them the experience to get through crazy games like Sunday's.
Compared to their struggles to start the year, the Mavericks recovered, played like World Champions, and finished off the non-stars in overtime. It takes experience, it takes veterans, it takes a mindset to "survive." Oh, and Jason Terry, that helps too.
"I was locked in," Terry said after he finished with a game-high 34 points on 14-23 shooting and 4 assists in 37 minutes.
His is always the second name on the Mavericks behind the Big German, but lost in the
Lamar Odom
trade and the free agency departures and the injuries is the fact that Jason Terry still wears Mavericks blue. And he's a survivor. Terry has made huge shot after huge shot for the Mavericks throughout the years and on Sunday showed why the Mavericks will keep learning, keep adjusting, and keep improving as veterans do even in a wacky year, and will be there at the end, when the playoffs begin.
"I watched the film [from
the first meeting
between the two teams] and there were some shots that I know I would make if I got them again," Terry said. "I said if I continue to get those same looks and opportunities that I'm going to be aggressive and take them."
It was Terry taking and hitting big shots along with the kind of consistent team effort on defense and the glass that got the Mavericks back in control. It was also players like Carter, who have been around long enough to make the plays when they need to, especially against an inexperienced crew like the upstart bench mob from San Antonio. Carter later said this season comes down to simple survival.
"That's what it's going to be about it. It's going to be about survival. Every guy on the team has to be ready to play, because you just never know."
What the Mavericks do know is that they have guys who have been there, done that. Other teams may have more youth, more depth, fresher legs and more wind. But does having the veterans in a season like this, even with the wear and tear on older bodies, help the Mavs in their mindset?
"I think so," Carter said. "And just making sure your young guys are prepared."
Carter complimented
Roddy Beaubois
,
starting at point guard yet again
for the injured
Jason Kidd
. "My hat's off to Roddy. It gets to where he's not playing big minutes, and he plays spot minutes and then he gets the start. To play like that, it gets a salute from me."
Veterans putting the young guys in a position to make plays, and Jason Terry hitting big shots when the Mavericks need them. If the Mavericks are going to survive this year, that's the approach they want to have. It's not about the division lead the Mavericks took Sunday night with the win. It's not about getting Nowitzki back into the rotation or worrying about blowing a lead to a group of bench players.
This season is not about being perfect. It's about survival. And the Mavericks are as well prepared to survive as any team in the league.