Sacramento Kings assistant coach Mario Elie was arrested Wednesday night on Driving Under the Influence charges. Posted by Ben Golliver.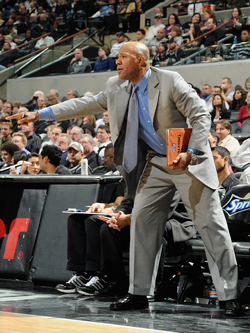 You can't spell "Drinking" without K-I-N-G.
Yes, I already regret that sentence, but it's true. Sacramento Kings assistant coach Mario Elie, he of the world champion Houston
Rockets
from the mid-1990s, was reportedly arrested on DUI charges Wednesday night, becoming the fourth member of the organization in the last 12 months to find himself in that situation. Take it away
SacTownRoyalty.com
.
Kings assistant coach Mario Elie became the latest member of the franchise to be arrested on DUI charges. KHTK 1140 AM broke the news that Elie was arrested at 2 a.m. in Sacramento, held overnight and released after bail was posted in the morning.
Elie joined the team as one of Paul Westphal's assistant coaches before the 2009-10. As the Kings have strugged, Elie was seen as the assistant most likely to take over the head coach's chair had the franchise decided to cut ties with Westphal. There is no chance that will happen now.
The Kings' current predicament offers plenty of reasons to hit the bottle for coaches and fans alike -- 2-8 in their last 10 games, questions about
Tyreke Evans
' foot, even more questions about
DeMarcus Cousins
' attitude -- but there's never an excuse for getting behind the wheel after drowning your sorrows. Unfortunately for the Kings, this runs deeper than a single bad decision on Elie's behalf. In the past 12 months, two (now former) players --
Andres Nocioni
and Antoine Wright -- were arrested on DUI charges, as was co-owner George Maloof. Throw in Evans'
reckless driving
and the Kings become, without question, more menacing on the highways and byways than they are on the hardwood. Surely, a large donation to Mothers Against Drunk Driving and a commitment to raise public awareness about designated drivers is in this franchise's future. Let's just hope the rest of the Kings employees are paying attention during the lip service.