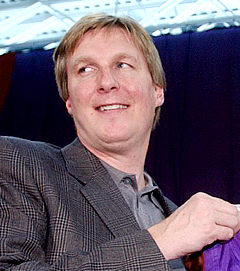 Posted by Royce Young
This might be the biggest season for New York
Knicks
basketball in 20 years. The team is good, the playoffs are pretty much a lock and there's a chance that the Knicks could be major players in 2012's free agency bonanza which features
Chris Paul
,
Dwight Howard
and
Deron Williams
.
And the man charged with directing them through all of this? Glen Grunwald.
Grunwald was promoted from senior vice president of basketball operations to interim general manager after Donnie Walsh left that position with the Knicks during the offseason. The team intends to hire a replacement GM for Walsh, but that's unlikely to happen until 2012.
So as Newsday reports
, Grunwald will most likely keep his seat as interim GM for the 2011-12 season.
Who is Glen Grunwald, you ask? He was formerly the
Raptors
GM from 1998 to 2004, when he was fired. He oversaw the peak of the Raptors with
Vince Carter
and
Tracy McGrady
where they had three straight playoff appearances.
He left the NBA in 2004 but returned in 2006 with the Knicks after being offered a position from Isiah Thomas. Funny enough, Thomas was the one that hired him in Toronto as well. You can see a theme here -- Grunwald and Isiah Thomas are boys.
Don't freak though Knicks fans, it's supposed to just be temporary. Assistant GM Allan Houston, who is currently running the Knicks D-League team, is expected to become the full-time GM of the Knicks in 2012.