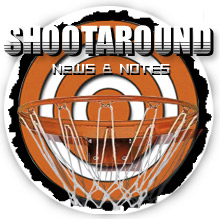 Posted by Royce Young
Before we get too carried away with Joakim Noah for Carmelo Anthony talk, Marc Stein of ESPN says that the Bulls are actually working on something else Noah related: an extension. Which adds a potentially interesting twist to the trade rumors. Right now, Noah's salary is nowhere close to being enough to get a deal done with Denver for Anthony. Luol Deng would have to be included in the trade, but Denver is lukewarm on Deng. So if the Bulls extend Noah to say, $10 million a year, that would make a swap much easier. Just a thought.
Kevin Durant wrote "1972" on his sneakers yesterday for the game against Russia. Kelly Dwyer of Ball Don't Lie: "Not only does it remind me of how proud I am to be an American, but it should remind followers from all nations in this tournament that being part of a team can be a pretty special thing. Whether you're a member of Team USA at one point, CCCP, the Russian team, or a squad that didn't even exist in the 1988 Olympics (which took place the month Kevin Durant was born), it hardly matters. You're a teammate for life, and I appreciated Durant's little message to his teammates."
Ailene Voison of the Sac Bee on the reprehensible situation with Omri Casspi: "Kings forward Omri Casspi said Thursday he was 'hurt' after learning that a mural featuring his likeness was defaced with a swastika. The incident at 16th and R streets in midtown Sacramento is being investigated as a possible hate crime by local authorities. 'It's been all over the news over here,' said Casspi by phone at his family home in Yavne, Israel. 'Everybody's talking about it. It's hurtful to think that this is 2010, and there are still people like that out there. I almost don't know what to say. It's probably just some idiot who wants some publicity. But I know the people in Sacramento, and they have been wonderful to me. I know they must feel bad about this. Same thing with the Kings. I'll just let the police handle this and focus on having a great season.' Casspi, the first Israeli to play in the NBA, returns to Sacramento on Monday to begin preparing for his second training camp."
What does the old show "The White Shadow" and Turkey's 12 Giant Men have in common? Pete Thamel of the NY Times: "Turkey's rapid rise as a basketball power can be traced, in part, to 'The White Shadow,' whose 54 episodes appeared on black-and-white TV here from 1980 to 1982. 'It made people aware of basketball in Turkey,' said Alper Yilmaz, a former national team player who works in the front office of Efes Pilsen, a club in Istanbul that has won 13 Turkish League titles since its founding in 1976. 'There was already basketball in Turkey,' Yilmaz added, 'but after that show, everyone started playing.'"
Chris Sheridan of ESPN on what gets lost in translation in international basketball: "The inclination for a player in foul trouble is to hold back, even just a little. Not so for Andre Iguodala , who played with so much energy and passion right when the Americans needed it that one of the Russian players actually thought he was swearing at him -- in Russian. "He say in Russian a bad word. I don't know how he know this. I won't even translate it. It's bad," said Russian forward Andrey Vorontsevich, who got yelled at by Iguodala after being a little too physical with Lamar Odom . "All I said was, 'watch it, watch it,'" Iguodala said, bewildered. "I don't speak any Russian."Apparently (according to bilingual Russian journalist Vladimir Gomelsky of NTV+, the Russian all-sports cable network), if you say, "watch it, watch it" fast enough, it can be misconstrued as the Russian euphemism for a female canine."