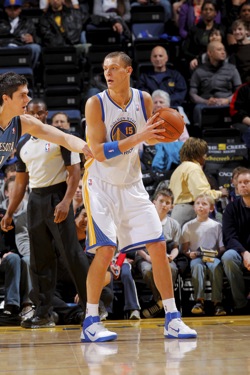 Posted by Royce Young
The Rockets are looking to find a new starting center. Yao Ming's future is extremely uncertain, Brad Miller just got traded and Chuck Hayes, the current starter, is only 6-foot-6. So they're targeting some available big men.
One that's seemingly available? Golden State's Andris Biedrins.
According to the Bay Area News Group, the Rockets made an offer, albeit sort of a halfhearted one, for the Warrior seven-footer.
"Was able to confirm reports by the Houston Chronicle that the Rockets are indeed interested in acquiring Biedrins," he wrote. "So why is Biedrins still a Warrior you ask? While this may seem the perfect answer to the Warriors' ills, Golden State, according to multiple sources, are not at all enamored with the Rockets' offer thus far. I've been told the Rockets have offered Hasheem Thabeet and Jordan Hill. Haven't confirmed if they were offered as a package, but the figures add up ... Bottom line for the Warriors: that's not enough."
Biedrins isn't an All-Star center or anything, but Houston's going to have to do better than Jordan Hill and Hasheem Thabeet. Biedrins is a horrible offensively liability, but he's a defensive presence and one of the league's best rebounders. He averaged a double-double for two straight years, including a season of 11.2 rebounds per game.
The Warriors have been rumored to be interested in trading Biedrins for some time. Biedrins though is signed through 2014 making $9 million a season with an early termination option in the final year. So it's understandable that people aren't blowing the Warriors away for a one-way player that's owed $27 million over the next three years.
Fact is though, Biedrins would probably be a pretty nice fit in Houston. The Rockets need some size and need someone to handle the primary minutes at center. Pretty much anyone will work next to Luis Scola, but Hayes, while a tough, hardworking player, just isn't going to get it done. Biedrins would give depth and size the Rocket front court.
So he'd work well there. They're just going to have to do better than Thabeet. Which is understandable, but really, why are the Warriors intent on hanging on to him? Biedrins isn't a fit for the Warriors and they have young talent that needs to see the floor. Even if you lose the trade, dumping Biedrins is probably for the best.