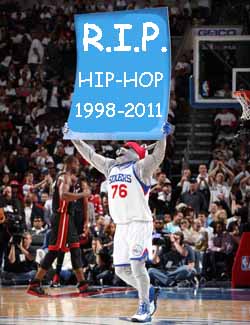 By Matt Moore
Well, the NBA season's dead, might as well kill the mascots, too.
The Philadelphia News reports that after conferring with fans, Hip-Hop, the Sixers' bunny mascot with acrobatic style, has been ditched, nevermore to dunk off a trampoline again. From the
Philly News
:
After receiving hundreds of communications from fans, nearly all of them advocating the end of a symbol of a different era, the teams new ownership will announce today that the never-beloved mascot has been put out to pasture, literally.

To spare the sensibilities of the one or two children who werent scared to death by the rabbit, the team will say that Hip Hop fell in love, married and moved away to start a family. Apparently, it either was that or announce that they were going to boil him in a pot on a really big stove in a remake of "Fatal Attraction."
via
Sixers 86 their Hip Hop mascot | Philadelphia Daily News | 11/22/2011
.
That's a funny little fake anecdote in a news story, right? No. Seriously.
That's actually what the team released today
. There's been some suggestions that the Sixers
should return to Big Shot
.
But wait, there's more to this breaking story! The Sixers have hired the Jim Henson Creature Shop to dream them up a new costume for someone to run around and shoot t-shirts into empty seats. (Obligatory crack about Sixers attendance: check.)
As a result, the Sixers have hired the world famous Jim Henson Creature Shop™ and Raymond Entertainment Group to recruit a new team mascot.

"We have proclaimed quite loudly in Philadelphia that we will listen to Sixers fans," Aron said. "In the 6,500 fan comments and suggestions we received so far at NewSixersOwner.com, there was a tidal wave of commentary suggesting the Sixers needed a new mascot. We have hired an incredibly talented duo in Jim Henson's Creature Shop and the Raymond Entertainment Group to help us develop a new mascot for the 76ers."

The process has already begun, with Jim Henson's Creature Shop™ and Raymond Entertainment Group working in conjunction with the Sixers to find a new official team mascot.
via
SIXERS: Sixers retain Jim Henson's Creature Shop & Raymond Entertainment Group to find new mascot - 11/22/2011
.
"It's not easy being
green
seven games under .500 every year because we refuse to trade
Andre Iguodala
." (Obligatory Muppets joke: check.)
Here's my question. They polled Philadelphia fans and axed the mascot because the comments were angry and cruel. Isn't that pretty much Philadelphia's reaction to everything? (Obligatory crack about Philly fans: check.)
Also, here's one. Do they have to fire the old guy? What if the new suit doesn't fit his frame? What if the old mascot was a woman and the new costume is too heavy? What if it was a big muscled guy and the new one is smaller? These are the things that keep me up at night during a lockout.
(Photo by Getty Images. Illustration by EOB. Obviously.)