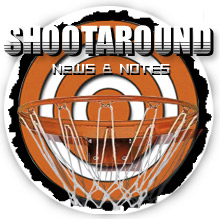 We're getting a new guy, the
Grizzlies
aren't giving Conley the dough, and the
Heat
know they have to give to succeed, all in today's Shootaround.Posted by Matt Moore
You'll be seeing a new face around these parts soon as
Ben Golliver joins the F&R staff
for the season. We're excited to have Ben on board and we know you'll love the coverage you'll get from Ben on the Blazers and across the league. As an initiation, we're planning on forcing him to
dougie like Babbit
.
The Grizzlies
have no plans to commit to a contract extension
with
Mike Conley
until after this season, the
Commercial Appeal
reports. After putting too much money into too incomplete a player in
Rudy Gay
over the summer, and with more important assets
Zach Randolph
and
Marc Gasol
also in need of extensions, this is an essential decision. Conley has not proven to be starter worthy despite being given all the starts the past two seasons. Conley's got to prove it.
The buzzword at Heat camp?
Sacrifice
. Which is exactly what you want to hear if you're hoping for the Heat to accomplish something special with the triad. That's the word that can help rehabilitiate their image, and push their game beyond video game stats and into playoff wins.
Lance Stephenson
shwoed up at camp and has been working hard despite his off-court woes. The bad news is that he's such a defensive liability, coach Jim O'Brien
says he wouldn't play a single minute in game
. Ouch.
Brandon Bass
has committed to learning the playbook
which could help him, you know, play in Orlando, a problem he had last year.
The last remaining roster spot in Charlotte may be down to
Javaris Crittenton
versus
Sherron Collins
out of Kansas. It's
a contrast in styles that could lead to a hard decision
for Larry Brown, via the
Charlotte Observer's
Rick Bonnell.
Dwight Jaynes in Portland is skeptical
of Nate McMillan's intention for the Blazers to run.
If you're not ready for the
John Wall
era,
read David Aldridge's piece
and you will be. I'm an advanced stats guy, and even I know that if your
numbers don't support the theory that Wall's going to be incredible
, you need to recheck your digits.
Michael Beasley
only missed two shots! Woo-hoo Wolves fans! Except the one he made were
almost all outside of the paint... oh
.