The Bulls newest star talks about Jerry Sloan, championship dreams, and the one game he wants another crack at. Posted by Matt Moore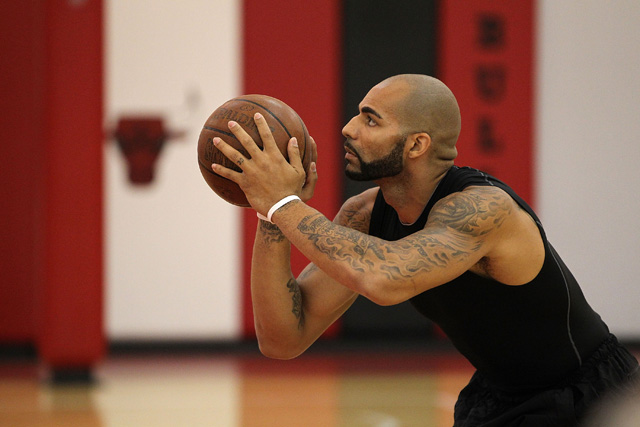 Carlos Boozer has taken his new role as a leader of the Bulls by the horns. (What? Why are you looking at me like that? Is there some sort of pun in play? Hmm?) He's been vocal about setting high expectations for the team, has been a visible presence in his new city, and is putting himself forward as the new cornerstone of the franchise beside Derrick Rose. This weekend, he's the guest commissioner at Gatorade's Replay Series Season 3 event, which features two teams replaying a game which ended in a shroud of controversy, something Boozer's been no stranger to in his career and that he continues with his championship goal declarations in Chicago. CBSSports.com spoke with Boozer today about what stands in the way of that goal, going from small market Salt Lake City to big city Chicago, his time with Jerry Sloan, and the one game he wants back.
Matt Moore:
You got a lot of publicity for your comment about competing for a championship. What's going to be the biggest challenge in pursuit of that goal you're setting?
Carlos Boozer:
That's what we play for, every NBA player. I'm very vocal about it. I want a ring, and my teammates want a ring. I think the biggest challenge will be coming together with our team chemistry. We also need to work to be a good, consistent defensive team. Also, continuing to see how we respond when we have a couple losses or if we're up and down. Can we fight back up and have that courage and confidence to keep going? In playoffs, we need to see how we fight back in a series. We'll learn a lot about our team, but the goal has to be a championship. That's what we all work for.
MM:
Have you already noticed a huge change in going from a small market like Utah to Chicago?
CB:
Oh, yeah, it's a lot different. I think I've been able to work my butt off and become a good player. The media coverage is a lot more intense than Salt Lake City. It's great, though, this is a great sports town, with the Blackhawks, the White Sox, the Cubs, the Bears, and obviously the Bulls. I'm looking forward to being a part of it.
MM:
What's the biggest thing you'll take away from your time with Coach Sloan?
CB:
Everything. He was phenomenal for me. He called and I talked to him just last week. He was able to turn our team into a contender, even without Karl Malone and Stockton. He really managed the transition of that team to the current one. I think after the Malone era, they were looking for an identity, and we came in and turned that into a contender. He really helped bridge the gap between the Karl Malone era to the early 2000's and 2010's. It's a tribute to him and his coaching that his teams have that kind of consistent success.
MM:
Gatorade is allowing teams to go back and have another shot to replay their greatest wins and most bitter defeats. What game do you want back?
CB:
The great thing about this is, Gatorade's been able to give guys games we want to replay. For me, the game against Indiana, when I was a junior in college, what turned out to be my last game at Duke. In Rupp Arena,
we were in the Sweet 16
against Indiana. There was a kid had seven 3s in second half, named Tom Coverdale. We were down by 4 at the end, and my teammate Jay Williams hit a three, and got fouled. I grabbed the rebound, went up between two Hoosiers, both of which were grabbing my arms. I thought I got fouled, there was no call, I missed the shot and we lost the game. I wish I could have that one back. There are a lot of games that stand out. This gives them a chance to replay it, especially the two teams playing on Friday. There was a tip at the buzzer, and one feels it was before the buzzer and the other after.
These guys have been training for 8 weeks. They've met with nutrition specialists, and have been going to the
Gatorade Sport Science Institute
. I'm an honorary commissioner for the game, and I'm looking forward to it. It's fun to be a part of it.
MM:
You've got Noah down low, Rose has been working on his three-point shot, and you added Kyle who you've played with. How do you like the balance on this team?
CB:
We've got a lot of balance, a lot of depth. I think up front, I think Joakim and I have a chance of being a more dynamic frontcourt, along with
Kurt Thomas
. In the backcourt, Derrick Rose is one of the more dynamic scorers in the league. We've got
Ronnie Brewer
and
Kyle Korver
, who you mentioned for defense and shooting. I think we'll be better than what a lot of people think. We have
Luol Deng
on the wing, which is great to have. But we have to go earn our respect. With the talent that we have, and the hunger we have, I think we're ready to really push for a championship.
Thanks to Carlos for his time and Gatorade for its assistance with this interview.