Houston Rockets point guard Aaron Brooks is now expected to miss at least a month with a sprained ankle. Posted by Ben Golliver.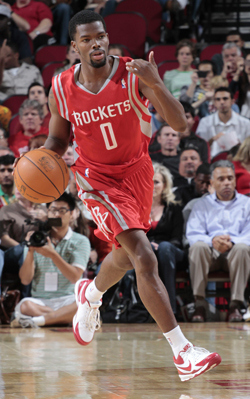 In a quick postscript to
this post
from last night,
Rockets.com is reporting
that Houston point guard Aaron Brooks has been diagnosed with a "moderate to severe left ankle sprain" and "is expected to miss a minimum of four weeks."
The Houston Chronicle reports
that the timeline stands at 4-6 weeks and quotes Brooks' reaction, which makes it sound like he's taking the news in stride.
"I don't think I ever had an ankle injury like this before," Brooks said. "I did break my hand in college, sat out like eight weeks. Luckily, nothing is broken. It's a sprain. I'll be back to normal. You have to count your blessings."
Brooks was injured when he landed on Manu Ginobili's right foot, but said he did not think Ginobili did anything improper in defending Brooks' running 40-footer at the first-half buzzer.
On Saturday night, prior to the full diagnosis, Rockets coach Rick Adelman had said Brooks would miss at least two weeks.
By missing Sunday's game against the Minnesota
Timberwolves
due to the ankle injury, Brooks snapped a consecutive games played streak that stood at 119. The last time he missed a game prior to Sunday was a Feb. 2, 2009 game against the Memphis
Grizzlies
.
As noted last night, in Brooks' absence, Houston would like to turn to
Kyle Lowry
, but back spasms kept him out of games against San Antonio and Minnesota. Look for promising rookie point guard
Ishmael Smith
to pick up the slack until Lowry is good to go.
On the bright side, Houston got its first win of the season against the Timberwolves, improving to 1-5. They had been the last remaining winless team in the NBA.