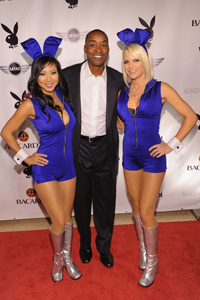 Isiah Thomas has given Derrick Rose advice on how to tough out a season through injuries.
(Getty Images)
By Matt Moore
Getting past Isiah Thomas' reputation as the Titanic captain of the 2000's
Knicks
and current superstar meddler is a bit of a trick. He damaged so much of his reputation as a Hall of Fame point guard and fearless, relentless winner that people forget he has a lot of quality advice for players in handling themselves on the court. The guy's playing reputation is nearly spotless, and there's a reason he provides counsel to so many superstars, sometimes too much so and pretty blatantly in violation of NBA tampering rules, regardless of his official position with the Knicks.
And one player that's recently turned to Thomas for advice on how to survive the beating a small point guard takes in this league is the MVP. From ESPN Chicago:
Isiah Thomas said he met Rose last year after a game in Detroit and that Rose contacted him after the Bulls' season had ended.

"He was pretty down," Thomas told ESPNChicago.com by phone on Wednesday. "He asked me 'How did you do it? How did you win back-to-back championships at this size?' And my response to him was that once you understand your opponent and know your opponent better than you know yourself, you'll win."

....

"... He's somebody where in Chicago, you definitely got to look up to, especially being a guard, winning championships in this league," Rose said. "[I] try to take things out of his game and put them into mine. But [he's] a cool dude. I played against his son in AAU. And he's from Chicago so I got to look up to him."
via
Chicago Bulls
Derrick Rose
sought advice from Isiah Thomas - ESPN Chicago.
The conversation essentially surrounded how to absorb a beating and play through it. Thomas' advice was largely "deal with it." Which is noble, but given the compact schedule and the fact Rose is dealing with a toe injury and back spasms, some rest might not be the worst idea, especially with what the Bulls have been able to do without him.
In last year's playoffs, Rose suffered an ankle sprain in the first round. From there he just took more and more of a beating. There's nothing that can be done if Rose is injured in the playoffs, these things happen. But getting him healthy so he's not carrying more physical baggage into the postseason should be a priority for the Bulls. Wednesday night the Bulls played Rose 22 minutes in a game in which the opponent did not score for the first five minutes of the game. The Bulls lead by double digits essentially for the first four minutes on. The game was never in doubt. Sitting Rose against New Orleans would have been a perfect situation. Instead, the perception is that Thibodeau "only" played Rose 22 minutes. It's time to start looking at the big picture.