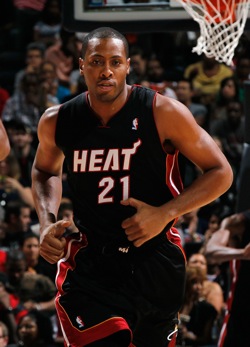 Posted by Royce Young
After trading one of the best backup centers a team could ask for in
Marcin Gortat
, the
Magic
have been looking for a little help at that spot since. They aren't necessarily in the market for a player the caliber of Gortat because they have, you know,
Dwight Howard
, but they want
someone
so Howard can at least take a breath during a game.
There was a report that Orlando had inquired
about New York's
Ronny Turiaf
and Philadelphia's
Tony Battie
, but so far no good on those fronts.
A report from HoopsWorld has two other names
--
Nazr Mohammed
of the
Bobcats
and
Jamaal Magloire
of the
Heat
-- but again, no luck advancing those talks either right now.
The report says that there was at least a "passing dialogue" concerning a
Jason Williams
for Magloire trade, but the Heat didn't seem that receptive. And that's with the Magic throwing in a second-round pick. I know, what a deal, huh? I can't believe the Heat didn't jump at that one.
The Magic are extremely active right now trying to make a move for a backup big man, but it's clear they don't have the right pieces to trade to get the level of player they want. Williams is an option as well as
Quentin Richardson
or
Chris Duhon
, but teams are likely going to be more interested in
J.J. Redick
.
Orlando isn't to the point of desperation yet, because I mean, they
do
have Dwight Howard but the Magic need help. What if Howard gets injured? Or gets in foul trouble? Or gets suspended for picking up too many technicals? Otis Smith wants that depth and he should. But it's becoming obvious that he's going to have to lose the trade to get it.
Any time you're the team that clearly needs help, someone like Jason Williams just isn't enough when the the other guy knows there are better options to ask for. Duhon, Richardson and even Redick are pretty good pieces. But is one of them worth a Nazr Mohammed? That's the question Smith is asking himself right now.