A look at five top 2012 NBA Draft picks and where they might fit best in the NBA. Posted by Ben Golliver.

A confluence of factors made the 2011 NBA Draft one to forget. The one-and-done class was weak to begin with; there were only 3-4 players selected who are believed to possess eventual All-Star talent; the impending NBA lockout scared many top players into returning to school; there wasn't an American-born center taken in the first round; two of the most talented international players (Enes Kanter and Bismack Biyombo) had very short resumes and another, Jonas Valanciunas, had a tricky contract buyout. On and on the list goes.
In that light, the 2011 NBA Draft was about assessing risk for bad teams. Which incomplete player fits best with our pieces? Which of these diamonds in the rough might pan out in the right circumstances?

The 2012 Draft couldn't be more different. Yes, we're 11 months away, but it's setting up as an evaluating of rewards rather than riches thanks to a crop that should be in the running for best class since 2003 brought LeBron James, Carmelo Anthony and company. Considering that the NBA's lockout is now officially underway, the 2012 class serves as the perfect light at the end of the tunnel.
At first glance, there are arguably 10 prospects who could have been top five talents in this year's draft. Why? Because the one-and-dones that stayed put – big-name stars like Harrison Barnes and Jared Sullinger – will converge with a very strong high school Class of 2011 – topped by Anthony Davis, James McAdoo, Michael Gilchrist, Austin Rivers and others.
Here's an early look at five top prospects and where their impact would be greatest.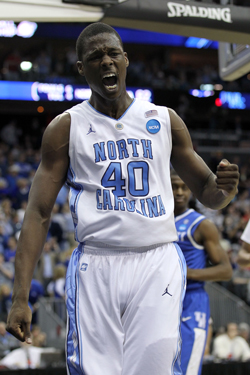 1. Harrison Barnes | Sophomore | UNC | SF | 6-foot-8, 210 pounds
Barnes should headline the 2012 NBA Draft class and is the early favorite to go No. 1 overall. Despite falling short of preseason All-American expectations and starting slow as a freshman, Barnes came on strong over the second half of the season, averaging 21.3 points and 6.3 rebounds in March. He has all the tools to be an NBA All-Star and an elite scorer. He's polished, smooth, has a pretty stroke, good size and a scorer's self-confidence. After he gets a second season under his belt, Barnes should be ready to start from Day 1 and step in as a No. 1 scoring option from the get-go in 2012-2013. He understands the marketing side of the modern game and projects to be a franchise building block.
Best fit: If the Toronto Raptors and Charlotte Bobcats are as bad as everyone expects them to be next season, Barnes serves as the potential savior.

2. Jared Sullinger| Sophomore | Ohio State | PF | 6-foot-8, 250 pounds
The No. 2 spot in next year's draft is Sullinger's to lose, although he'll certainly have his share of challengers. A traditional low-post power forward, Sullinger shed questions about his weight to become the best freshman in the nation last season, averaging 17.2 points and 10.2 rebounds per game. Sullinger is strong and relentless, overpowering older players at the college level. Physically, he's a throwback in this age of combo fours and he would be the consensus No. 1 pick next year if he were an inch or two taller and a few inches longer so that he could more comfortably play center. His productivity on the glass – and the offensive efficiency that goes with it -- is his top selling point. The biggest concern: Will he be subject to mismatches on the defensive end (too short to guard fives, too big to stay with combo fours on the perimeter)?
Best fit: Pair him with a lengthy shot-blocker. The Washington Wizards – with JaVale McGee -- or the Detroit Pistons – with Greg Monroe -- would allow Sullinger to do what he does best.

3. Anthony Davis | Freshman | Kentucky | PF | 6-foot-10, 220 pounds
The best word to describe Davis is "tantalizing." At this point, despite a solid showing on the All-Star circuit, Davis is regarded more for his potential than his current ability. That's to be expected given a well-documented growth spurt that has made him the most hyped American big man prospect since Greg Oden. While Davis is much skinnier and less overwhelming than Oden, he is significantly more mobile. He's also extremely long and active around the basket on both ends. Kentucky is an ideal situation for him to develop: surrounded by future pros and not asked to do too much, Davis should have an excellent chance to make a big impact games during March Madness, even if he isn't putting up overwhelming stat lines. There isn't a team in the NBA that wouldn't take him today based on the rarity of his physical package. If he continues to develop his strength and size, he has a very good shot to go No. 1 overall, even if he's riskier right now than Barnes or Sullinger.
Best fit: Pairing Davis with a wide body, low-post presence would be his best-case scenario: Minnesota, next to Kevin Love, or Sacramento, alongside DeMarcus Cousins.

4. James McAdoo | Freshman | UNC | PF | 6-foot-8, 223 pounds
McAdoo is a supremely talented, although sometimes overlooked, combo forward who will likely play four as a pro. His skill level, comfort with the ball in his hands, nose for rebounds, ability to finish and general intelligence make him a can't-miss prospect. A (very) distant relative of NBA Hall of Famer Bob McAdoo, he raised his profile on the All-Star circuit and declared at the Nike Hoop Summit that he was ready to average 20 points and 10 rebounds as a freshman at Carolina, a feat that would be unprecedented. With UNC returning so much talent, he's in line for an adjustment of expectations but there's no question that he was born to play basketball at the NBA level.
Best fit: The Cleveland Cavaliers didn't get the talented combo forward they desired in Derrick Williams in 2011. McAdoo would make a nice consolation prize. Pending a decision on Kris Humphries and a rumored free agency pursuit of David West, McAdoo would fit nicely next to Brook Lopez in New Jersey too.

5. Michael Gilchrist | Freshman | Kentucky | 6-foot-7, 205 pounds
NBA teams haven't exactly shown a desire to reward elite wing defenders with top draft selections, but Gilchrist deserves it. He really redefines "motor" and "intensity," making full use of his ideal wing size. He enjoys playing chest-to-chest defense but is comfortable off the ball as well, equally capable of taking a No. 1 scoring option out of the game or breaking plays from the weakside and finishing in transition. Other than an ugly release on his jumper, Gilchrist is a solid offensive prospect too, able to score and make plays, and fully comfortable with the ball in his hands.
Best fit: Any team in need of an intensity injection. The Raptors, Wizards, Bobcats and Los Angeles Clippers all qualify.
All height and weight figures courtesy of DraftExpress.com.