The upsides and downsides of signing the top five buyout free agents.
Posed by Matt Moore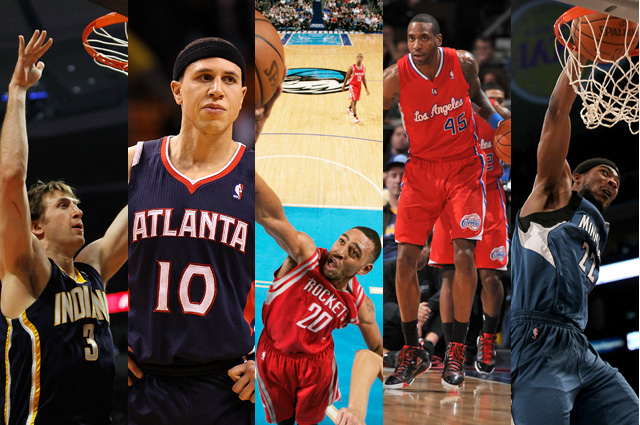 Trade deadine season is over, which means it's buyout season.
The crop this season
is loaded with your usual batch of veterans able to provide help, especially as they're at a significant discount for the rest of the season and looking to join already well-loaded teams. There's always a significant cost to these players on the floor though. Here then are the upsides and downsides of the top five players available via buyout.
Troy Murphy, PF
: Murphy was a candidate last year for the big Cavs move that wound up being
Antawn Jamison
. Instead, he wound up being traded to New Jersey, dealing with significant back issues, getting jerked around by Avery Johnson (along with half the
Nets
' roster), and then having a long, lovely vacation. After finally being moved to the
Warriors
, he was freed, and the result is that he's the top free agent on the market.
Upside:
Murphy's biggest draw is that he's a do-it-all big. He shoots reliably from the field and from the 3-point line (39 percent on his career, 38 percent last season with Indiana). But versus most stretch-fours, he also rebounds, averaging 10 rebounds a game last season with a 17 percent rebound rate (that's decent). Basically, if the
Celtics
nab him, he becomes a perimeter scorer and a big who can rebound. He's a Swiss Army Knife at the power forward spot. Usually a buyout big is limited somewhere on the floor, but being able to rebound and shoot is a rare combination. He's also good on tip-ins at 51 percent off offensive rebounds.
Downside:
Defensively, though, there are concerns. Murphy gave up a 57 percent field goal percentage in the post last year, according to Synergy Sports. He's good on the pick-and-roll and in isolation, but in the post, he's got some concerns. Then again, if post defense was what the Celtics were worried about, they wouldn't have traded
Kendrick Perkins
. Meanwhile, his post offense is as bad as his defense. Quite simply don't put him in the block. That's a problem unless you have a good array of players to complement him. Which, you know, the Celtics do. That's why Murphy seems like such a no-brainer for Boston.
Mike Bibby, PG:
Bibby was the big trade acquisition for Atlanta. He was the guy brought in to put them at the next level. And he did that. But now he's been moved to the
Wizards
for
Kirk Hinrich
and, as a result, has been bought out. Once a star in Sacramento, Bibby's on the backside, but still brings something to the table.
Upside:
Bibby can still shoot. He shot 44 percent from the arc this season, and 39 percent last season with Atlanta. That's a skill in a point guard you want, especially if you're just looking for a point guard to come in and give the
ball to two star wings
like, oh, say,
LeBron James
and
Dwyane Wade
. Perhaps even better, though, Bibby rarely turns the ball over. He's a reliable, consistent, what-you-see-is-what-you-get point guard. He's no longer an elite player, but could be a difference maker on a team like the
Heat
.
Downside:
No defense. Cannot do it. Happens when you're 32 and undersized. Bibby averages .7 steals per game, and that's a bad stat to measure defense. Bibby can't stay in front of perimeter penetration, meaning more pressure on help defenders down low.
Corey Brewer, G/F:
How often does a 24-year-old wing who started last season wind up on the buyout market? When David Kahn's involved, that's when! Brewer wasn't going to get time in New York, because really, when you give up four players for two, you're not going to worry about depth at all. Nonetheless, Brewer's on the market.
Upside:
Brewer works as a complementary wing player. He can play in multiple lineups at multiple positions, and is athletic. An actual athletic wing in a buyout situation. Weird. A good team might be able to develop him and capitalize on what was a good 3-point shooter at one point in his career.
Downside:
Well, Brewer's shooting 38 percent from the field this year, 2.7 rebounds, and 1.4 assists in 30 minutes per game. That's pretty terrible and there's no way around it. Plus he won't be in a situation focused on development, but trying to fit in with a veteran team trying to win a championship. That isn't ideal. The
Spurs
are the best fit, but if he struggles, he's going to have welts on his backside from the pine.
Jared Jeffries, F:
Jeffries was a poor fit in New York, left over from the Isiah era (shudder). But it turns out he's actually not a bad player overall, he just didn't fit into Houston's plans. So, once agian, he's available, and all of a sudden, contenders are interested.
Upside:
Jeffries is an active, competent defender with the ability to match up at multiple positions. He's 6-11 with good length, so he can be used to fit into multiple rotations off the bench. He's experienced (sensing a pattern yet), which teams are looking for and he's shown good activity as a part of a system. He averages 9.1 rebounds per 36 minutes which is nothing to ignore, either. And as opposed to the other options, Jeffries is still shy of 30 for a few months.
Downside:
Don't let him touch the basketball on offense. I don't mean: "he shouldn't shoot." I mean: "if you have to, you should look into some sort of shock collar to prevent him from shooting." Career 43 percent from the field, 25 percent from the perimeter. That's a pretty big liability offensively. He's never been a leader, and hasn't been part of a winner. Again, Isiah (shudder).
Rasual Butler, GF:
It's kind of surprising Butler's on the market. Butler's a fringe player, but it's not like the
Clippers
are loaded, and they've historically aimed for veterans despite needs to go young. But there he is, shopping as a guard in a market with high guard demand.
Upside:
Butler's a streak shooter. He can fill it up when he gets going, and doesn't struggle with the trigger. Set up as a well-spaced shooter, he could be very effective, provided his shot comes back. Because...
Downside:
His shot's fallen off a cliff. Then it crashed into the canyon wall. Then it caught fire. Then exploded. Butler's a career 40 percent shooter, shooting 32 percent this season. So basically, he's a bad shooter most of the time, who's shooting even worse this season, doesn't rebound or pass well, and is 31. Get excited,
Bulls
fans! This is why you didn't go get
O.J. Mayo
(well, that and the
Grizzlies
didn't want
Ronnie Brewer
after giving up a first round pick for him last year then renouncing his right this summer, but that's a whole other thing).