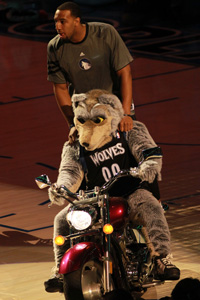 Jarrett Jack did not think Derrick Williams did well in the dunk contest.
(Getty Images)
Posted by
Ben Golliver
There's nothing better than making fun of the Dunk Contest and there's not much more exciting than athlete-on-athlete violence on Twitter, so get ready for a good time right here, right now.
On Saturday night, Minnesota
Timberwolves
rookie forward
Derrick Williams
had
an up-and-down Dunk Contest
. The highlight was his second attempt, a side-of-the-backboard, alley-oop assisted by
Ricky Rubio
. The lowlight was his third attempt, a string of misses as he tried to complete a self-toss, through-the-legs throwdown.
But it wasn't either of those dunks that set off New Orleans
Hornets
guard
Jarrett Jack
. No, it was Williams' first attempt, in which he rode in on a motorcyle with a mascot and then jumped over the bike to throw down a windmill.
On his Twitter account,
@JarrettJack03
, Jack objected to what he deemed a less-than-masculine scene.
"Definitely against all the man laws ever created. Dudes can't ride on the back of motorcycles," Jack opined. He later pointed out that Williams has a "cash register mouth," a reference to Williams' "underbite."
Jack went on to call the Dunk Contest the "worst... of all time" and explained that Utah
Jazz
forward
Jeremy Evans
, the eventual Slam Dunk contest winner, has "dolphin teeth."
It wasn't long before Williams, posting on his account,
@realdwill7
, felt the need to respond.
"Hahaa who?" Williams wrote when someone informed him of Jack's criticism, implying that he didn't know who the seventh year pro out of Georgia Tech was.
Later, he took an apparent dig at Jack's future with the Hornets, writing: "All I know is come draft night.. That team lookin for a point guard." Shortly thereafter, he realized it might be time to simmer down. "I need to chill. chill button pushed," Williams wrote.
After the extended back and forth, Jack suggested that perhaps Williams needed to be a little more self-effacing. "I hope the dude Derrick Williams aint takin it too serious they are just jokes," he wrote. "If you can't laugh at yourself, what can u really laugh at?"
So that's good. We've apparently reached a Dunk Contest detente. In case you were wondering, the next meeting between the Timberwolves and the Hornets will be on Mar. 10 in Minnesota.