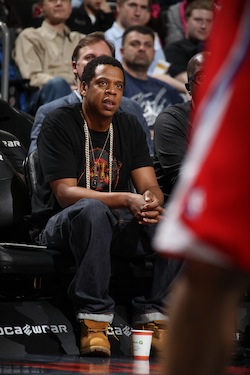 By Matt Moore
The New Jersey
Nets
held a press conference Monday to
announce the official name of the Nets when they move to Brooklyn
. And the winner is... the Brooklyn Nets.
Wah-wah.
There had been rampant speculation about a possible name change for the team upon its relocation to the new Barclays Center in 2012. My personal favorite was the Brooklyn Hipsters, but that was a longshot. The name is a loaded issue. On the one hand, the Nets have a lot of history, dating back to the ABA. More importantly, sadly, rebranding is really expensive. In the midst of what many expect to be a lengthy lockout that could sacrifice the entire season, spending the money to rebrand everything from banners and jerseys to merchandise and letterhead probably isn't feasible in a dead income year.
On the other hand, the name is the Nets. It's unoriginal, lacks any real identity, and seems like something an office full of unimaginative people would come up with.
But for Prokrhorov, Ratner, Jay-Z et al, the important part of the name is the "Brooklyn" part. That's the key to their success, the untold riches headed their way, a real shot to compete with the
Knicks
for the New York market, however unlikely that may be.
To slip off on a tangent here, it's remarkable that no one's batting an eye at the move for the Nets. Yes, the arena is only a short trip away. But there are kids in Jersey who won't be able to attend those games and will be, in essence, losing their team. Now it's only a small number of people, and that's why no one really cares. But we're a country that celebrates individualism, that fights to protect individualism, and in general, we get a little squeamish about utilitarianism. However, that's the opposite in this case. We don't care if the Nets move, or the
Hornets
are contracted, or the
Kings
slip town because we care about the most people. Just an interesting little offset.
Anyway, yeah, the Nets. Let's hear your thoughts on the "name change" in the comments.