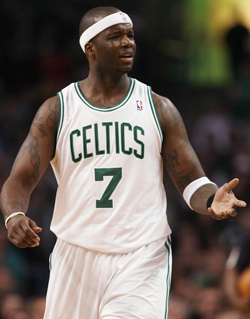 By Matt Moore
Jermaine O'Neal
really thought he had it. By signing with the
Celtics
, he thought for sure this would net him a title. And for most of the season, right up until the last quarter, really, it looked like the Celtics were the best team in basketball. But it didn't work out, and O'Neal's season didn't go well either, as he was constantly sidelined with injuries. He'll be 33 next month, and the time has come for him to look at his future. CSNNewEngland.com's Sherrod Blakely spoke with O'Neal in Vegas at the Impact Training Series, and the veteran big man says 2012 will be his last season. He'll retire in 2012, regardless of whether there's a season or not.
"I'm going into my 16th year, so I know my time is near," O'Neal said. "I know someday the ball is going to go flat; you have to plan for life after basketball and that's what I have been doing."
via
J. O'Neal talks retirement after 2011-12 season
.
O'Neal's retirement would coincide with the expiration of his contract, so it wouldn't affect the Celtics' cap situation. O'Neal told CSN New England that his business interests have been diversified to prepare for his life after basketball.
It's also notable that O'Neal says he won't pursue an overseas offer. Instead, he wants to spend more time with his kids. An admirable change from the common refrain that money is all that matters.