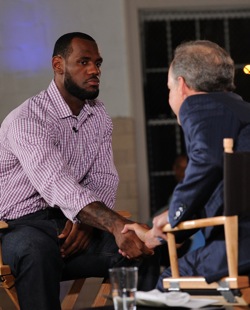 Posted by Royce Young
Pretty much everyone involved in The Decision has spent the last year taking a bit of a PR beating. Of course LeBron, but also Maverick Carter, ESPN and even the guy that did the interview, Jim Gray.
It's the one-year anniversary of The Decision so Gray joined the Dan Patrick Show,
via CSN Chicago
, to talk about that strange night at the Boys and Girls Club in Connecticut. One irk Gray has about the reaction from the special was that he walked out with a fat paycheck.
"I wasn't going to be the only one to be paid," Gray said.
And you're not going to believe this, but Gray also said he was surprised at the negative reaction to it.
Dan asked Gray what LeBron's mood was like before. "You could tell this wasn't something easy for him," Gray said. "It wasn't jovial. There wasn't any champagne or any corks going off. … I think it was a tough deal for him."

Gray thinks it was harder than people realized for LeBron to leave Cleveland. "I think he tried his best to stay a Cavalier," Gray said. "I think it was hard for him to recruit anyone…."

Dan asked if he could have a mulligan, what would he do differently. Gray said he wished that he explained why they were at the Boys' and Girls' club.
Yeah, because explaining why they were at the Boys and Girls Club would DEFINITELY have changed everyone's pespective. Because it wasn't already obvious enough that money was going to charity. Didn't matter though. People aren't stupid. Everyone could see through the facade of the goodwill. Yeah, it was a really nice gesture and something LeBron didn't need to do. But the idea of The Decision wasn't inspired to just make some money for a charity. There was always more to it than that. Hence the backlash.
Everyone involved in The Decision has spent the last year scrambling to recover a bit from the special, Gray being one of them. Reports were that he walked away with a massive payday from it, but he says he didn't make anything. Whatever the case, The Decision was a bad idea from the beginning and no amount of hindsight could really ever fix that.
Via PBT