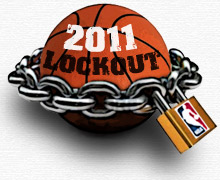 Posted by EOB Staff.
It's the latest "maybe a season will be saved" day in the NBA labor talks, and we fully expect the rug to be pulled out like it has each time before. But to keep up with the developments today, our Buzz post will update with any and all developments.
10:50 p.m.
NBA.com reports that a source involved in Friday's labor negotiations says that there is a "genuine desire" to reach a deal on Friday.
ESPN.com reports that an NBA owner is "optimistic" that a new labor deal will be reached this weekend.
8:45 p.m.

Ken Berger of CBSSports.com notes that the two groups meeting on Friday do not include the antitrust attorneys, only the principal parties from earlier small-group negotiations.
ESPN.com reports that the NBA's Labor Relations Committee will have a conference call on Friday night after the day's meetings..
Yahoo Sports reports that discussion of "actual deal points" did not begin until nearly eight hours into Friday's meetings.
11:30 a.m.
11:00 a.m.
Ken Berger reports that Kessler will not be in attendance, but will be "involved." That's still a great sign. Kessler's real problem was his interaction with Stern et al. His involvement in an advisory capacity is a good thing for the players, it gives them a strong voice who isn't concilliatory. But Quinn being on the forefront is a much better approach.
Ric Bucher of ESPN reported last night on SportsCenter that David Stern could give the players yet another ultimatum during today's meeting. Bucher reports that Stern could threaten to cancel the entire season if a deal isn't struck to save the Christmas games.
10:10 a.m.
Ken Berger of CBSSports.com reports that Derek Fisher will join the talks in New York Friday. Fisher's presence could simply be a legal formality to avoid a "sham" argument from the league if they were just dealing with lawyers, or it could signal a desire to have a player rep in the room if a handshake deal is presented.
And now for the bad news (I know, I know, it's like "Death Becomes Her," "Now a warning?"). Chris Broussard of ESPN.com reported Saturday night a list of the player's demands for this negotiating session. The players must feel that the threat of their antitrust lawsuit really has pushed the owners into a new state of reasonable discourse or at least shaken them a bit. Either that or they're high. Because's it's nuts.
How about the big non-starter, an increase in max salaries, from 20 percent to 30 percent, and increased qualifiying offers for restricted free agents? It's like the players are just ignoring that nearly half of this ridiculous situation is due to the summer of 2010 and the power of players like LeBron James and Carmelo Anthony. And raising the QO is a decent enough idea to not trap players into another year with a team, but as it raises salary amounts when the entire structure of the negotiation is geared at keeping costs as low as possible, it's hard to see this being anything the owners will move on.
Now, some of the other elements the players want are doable. Broussard reports that they want increase on the mini-Mid-Level-Exception (MLE) which the owners have reportedly already softened on. The sign-and-trade for tax teams for the life of the deal is such a small deal affecting so few transactions that quite simply, not even these two collections of geniuses can blow up a deal for it. And the so-called "repeater tax" is a new enough concept to allow for some movement on both sides. If the max and QO elements are built to be face-savers, with the deal coming down to the MLE, sign-and-trade, and repeater tax, it's possible there could be enough room for movement.
The last element Broussard reported was a higher MLE for non-tax teams than proposed, and a cap at 10 percent on the escrow payments. That's already a concession from the players, who last wanted an 8 percent cap. 10 percent was the reported target of the owners, so that should be doable. You know, like getting a deal back in July should have been doable. The MLE is likely a non-starter as well.