Posted by Ben Golliver.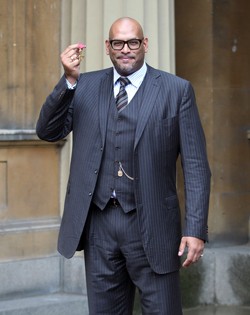 Former NBA center John Amaechi, perhaps best known as the first former NBA player to publicly disclose that he is a homesexual, was an Academic All-American at Penn State University during the mid-1990s.
He made it known this week that he was an active volunteer in the Second Mile, a charity run by former Penn State defensive coordinator Jerry Sandusky, during his time in State College. Sandusky has
recently been charged
with sexually abusing multiple boys affiliated with the organization, the
charity's CEO has stepped down
, and the charity itself
may be shut down entirely
.
Amaechi
recently told SI.com
that he had "some interactions" with Sandusky and he told
ESPN in a television interview this week
that his association with Second Mile has left him with some very complicated feelings given this month's horrifying revelations.
"I feel ashamed, embarrassed and humiliated. I have been talking to former athletes from Penn State and we were all involved in the Second Mile program. We were the respectable face of that program while, at least allegedly, in the background that program was used to groom and abuse young people.

"I was roped into creating the public face of the Second Mile along with so many volleyball and football and wrestling and other sports athletes. We went out there and were dedicated, and we showed up at schools and we played basketball and kickball and whatever else with the kids as a front to what was happening in the background. That makes me feel unwittingly complicit.

"More than [feeling] betrayed, it's the idea that perhaps we facilitated this. Because we were the ones that made the program so alluring, that made it work.

"Nostalgia, history, legacy, loyalty, all of these things that are personal selfish qualities are getting in the way of empathy for young people who, we know, the evidence shows, lives have been changed forever, damaged forever. Every part of the life of someone who was abused is damaged and changed. They may be resilient, they often power through it in a way that is superhuman, but the fact is that there are very few acts or a violation of humanity that can have such a far-reaching effect on every aspect of a person's life."
Amaechi spent five years in the NBA, playing for the Cleveland
Cavaliers
, Orlando
Magic
and Utah
Jazz
. He posted career averages of 6.2 points and 2.6 rebounds per game. SI.com reports that Amaechi now works as an organizational psychologist.
Hat tip: TheBigLead.com